England
England offered free whale-watching trip by cocky Iceland fans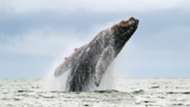 ---

EXTRA TIME
---
England must be considering whether or not they even want to beat Iceland in the last 16 of Euro 2016 - as they've just been offered an incredible fallback option should they lose!
The tiny nation of Iceland, competing at their first-ever major tournament, snuck into second place in Group F with a late, late winner against Austria on Wednesday, setting up a knockout game against Roy Hodgson's men.
Despite the last-minute nature of their qualification, some fans of Lars Lagerback's side are so confident of victory that they are already setting up a way to cheer up the defeated Three Lions - with a free day-trip to go whale-watching in Husavik!
Ahead of Monday's showdown, Icelandic holiday company North Sailing has printed 23 tickets, dated for Tuesday June 28, for each member of the England squad to forget their assumed heartbreak and see some of nature's most majestic creatures.
The tickets are offered "as a bandage for wounded pride, after the loss against Iceland this coming Monday," says the firm, whose manager, Gudbjartur Jonsson, added: "It is only polite and a part of the Icelandic hospitality culture to offer the free tickets.
"The poor English players will anyways not be able to return immediately to England after the match on Monday, as 60 million English football fans will be furious when losing to a small island state with only 300,000 inhabitants.
"Therefore we offer a peaceful day with whale-watching in a small town in Northern Iceland with beautiful nature and nice people. That should be the perfect compensation."