KPL
Dylan Kerr: Bandari 'cheated' to break Gor Mahia record in the league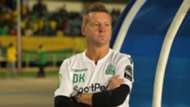 Gor Mahia coach Dylan Kerr has insisted that Bandari players should be very ashamed of 'cheating' during Tuesday's league match.
The Dockers scored two quick goals in the first half and managed to hold on until closing minutes of the second period before K'Ogalo pulled a goal that was not enough to protect their unbeaten run in the league.
The Briton coach has admitted that he was very sure that the Kenyan champions will lose a match before the end of the season but blamed the Dockers for their time wasting antics.
"Of course, I have always said that we will get beaten in the league because that is football," Kerr told Goal in an interview.
After @BandariOfficial's 2-1 win over @OfficialGMFC, K'Ogalo remains on top of the log with 56 points from 23 matches while the Dockers are second with 45 points having played 26 matches https://t.co/XBFmRGKRFw #KPL2018 pic.twitter.com/ci5HSAhtAl

— KPL (@TheOfficialKPL) August 7, 2018
"I am very proud because we showed character in trying to get back into the game after going down. That is more important than any result. I have got honest players that another thing I would never ever condone any player of mine to do is to cheat…time wasting as Bandari did.
"Congratulations to the coach but I will not be ashamed to condone his players' action. I will be embarrassed if my players did what Bandari did and this isn't because we lost but I would say the same.
"One of the Bandari players needed five minutes of treatment and add on the cheating time we had on the game, we calculate the minimum of ten minutes of added time yet the official gave five minutes.
"The Bandari keeper catches the ball not once and there was no Bandari player nor that of Gor Mahia within five meters but he catches and kicks it out and then lies on the floor as if he has been shot."
You can go ahead and win the world cup.
We wish you well.
Just remember you never left Mombasa with any unbeatable record. #Youwillrememberyourfirst#kpl2018 https://t.co/IkiX8QRAC7

— Bandari Fc (@BandariOfficial) August 7, 2018
Kerr also admitted that Bandari player Fred Nkata did not deserve to receive a red card. "Bandari red card was also wrong. Officials are not there to be the stars but they are there to officiate and do the right things. This is the second game now that officiating is very wanting."
However, Kerr has congratulated Bandari for winning the match. "Once again we lost and I have to congratulate them (Bandari) for the win."