Pahang
Dollah vents fury at officials after damaging defeat at Felda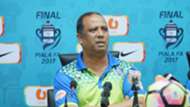 Pahang suffered a damaging 2-1 defeat to Felda United on Saturday night that put a big dent on their Super League title ambitions. The loss saw the gap widened from six points to nine points after Johor Darul Ta'zim emerged victorious against Penang.
The Elephants started strongly and got the lead through Mohamadou Sumareh in the first minute of the match but everything went downhill from there for them. Pahang's head coach, Dollah Salleh was beyond furious when speaking in the post-match conference and launched a scathing attack on the match officials.
"I don't mind losing but the standard of refereeing tonight [Saturday] was disappointing, as if the match was arranged. It's not only the penalty but also many other decisions by the officials that favoured Felda United when it shouldn't have."
"They got the penalty but in the situation when it should have been us getting one, it wasn't given. Pahang have faced this many times but we remained patience and kept quiet but this time for the football in this country, I will not," said a very angry Dollah after the match in a report published by Harian Metro.
Felda were awarded a penalty kick with just two minutes of normal time remaining and Thiago Augusto made no mistake with his spot kick to seal a vital win for the home side. 
The win moved the Fighters up one spot from 7th to 6th and head coach B. Sathianathan wants to see his side continue to improve and has set about doing it with a certain panache.
"I praise my players for coming back to get the win. They created a lot of goalscoring chances and that is what we need to do every match. If we only played defensively, we can only draw but we don't want to go that way."
"My instructions is for the players to do both. Despite the win, this is not the finished article yet for Felda and there are still room for improvement," said Sathianathan.
Both teams will now turn their attentions to the Malaysia Cup with Felda welcoming the visit of Kuala Lumpur while Pahang will take on Negeri Sembilan at the Darul Makmur Stadium. Both matches will be played on 4 July.