African All Stars
Does hamstring injury end Obafemi Martins' frustrating Nigeria career?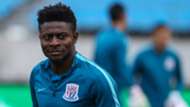 ---
COMMENT    By Solace Chukwu     

Follow on Twitter
---
It is a truth which might be increasingly easy to lose touch with, but sport, at its very core, is pure entertainment. So, we can understand that, like with every showman, the entrance and the exit should matter for footballers.
It is why there is much made of debut goals, for instance.
Obafemi Martins knew a thing or two about those, of course. On the 29th of May, 2004, then aged only 19 and signed to Inter Milan, Martins produced as delightful an entrée as any footballer has done pulling on a Nigeria shirt: laying on two goals and then bamboozling a bedraggled Irish defence with a coruscating run from halfway, before poking past Shay Given.
It's been 14 long years since, and that sense of great expectation has now morphed into apathy. Last week, the 'Weapon of Mass Destruction', as he so bombastically came to be nicknamed, tore his hamstring, effectively robbing him of a denouement on the grandest stage of all: the World Cup in Russia this summer.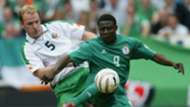 There had been a school of thought that, with the Super Eagles struggling for genuine forward options, there could be no harm in handing a national team recall, for the first time since 2013, to him.
Of course, there is a telling contrast between the circumstances of his debut and his current estate: in 2004, his arrival had been the culmination of a lustful chase by the Nigerian football authorities; this time he was a last resort, almost reached for with a shrug.
The reason is easy enough to understand: for a player who promised so much, he delivered so very little.
There were a handful of standout performances in green and white, very few highlights, and often a lingering sense that he often couldn't be bothered. It does not help, of course, that there was such a great 'will he, won't he' preceding his decision to finally accept the call to represent his country.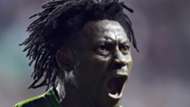 When he could, though, he was capable of such pure electricity. Two games, played four years apart, demonstrated this quite aptly: the first of which came in 2005.
In keeping with the Nigerian custom of leaving it late, the Super Eagles trailed Angola in qualifying for the 2006 World Cup after a mixed start, for which Christian Chukwu paid dearly with his job. Going into the final two games, it was no longer enough to win; Nigeria also needed Palancas Negras to slip up.
First, though, was a trip to Algeria, where Nigeria had previously never won before. Martins hit a hat-trick in a 5-2 demolition, then scored twice more to swat aside Zimbabwe.
It was a rousing effort that was ultimately for nought, as Angola went through on a superior head-to-head record.
That theme would play out again in 2009. A 2-2 draw in Abuja handed the advantage in qualifying to Tunisia, and meant that the series went down to the wire: Nigeria needed a win in the final game against Kenya, while hoping for Tunisia to fail to best Mozambique.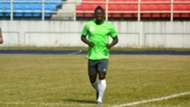 With the Harambee Stars in the lead, it was the introduction of Martins in the second half that turned the game: he struck twice inside the final half-hour to secure a 3-2 victory, and with it a place at the first-ever World Cup on African soil.
That an 11-year international career can be so easily distilled into three moments might be considered telling for some, but perhaps more pertinent is that, despite featuring in three Africa Cup of Nations tournaments and a World Cup, he had almost negligible cumulative impact in major tournaments.
Qualifying for them was hardly a problem before him; but that old expectation of the gods – that in the absence of a cure, they leave the infirm no worse than he was previously – simply does not cut it for a player whose talent seemed almost epochal when it first emerged.
His latest injury may bring his international career to an anti-climactic end - he is now all of 33, after all - but perhaps this is how it was always meant to be.
After all, every showman knows that the right to a dignified exit is earned by what has come before. For Martins, nothing better captures the frustration with him than the fact that, when it seemed he might be needed one last time, he is not on hand to deliver.