Premier League
Divide and failure! Mourinho's bad attitude is drowning Man Utd's title dreams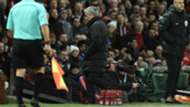 Jose Mourinho loves to promote the belief that it is him against the world. Just as Sir Alex Ferguson was famed for the siege mentality he would create in the Manchester United dressing room, the current Reds boss is a king at dividing him and his players from everybody and everything else in the game.
As recently as Thursday he was defining the difference in coverage concerning his United when speaking of the quality of Jesse Lingard's goal against Feyenoord.
Hazard snubs Man Utd in title race
"If it is another team scoring that goal, if it is another manager on the touchline with that goal the goal would cross the planet and people would be talking about magic," he said. "But a Mourinho team and a United team it was just one more goal."
By Sunday social media was flooded with people wishing to stand up for the Portuguese after he was sent from the touchline for the second time in three home games. Referee Jonathan Moss' decision to book Paul Pogba for a dive in the 1-1 draw against West Ham United had so irked Mourinho that he hoofed a drinks bottle a good 15 or 20 yards down the touchline in frustration.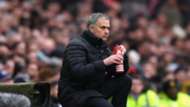 But to many it was seen as a harmless act, the like of which would be praised if committed by other managers and identified as 'character'. Mourinho, they claimed, was being picked on for nothing other than being Mourinho.
In truth, the 53-year-old is far from the first person – manager or player – to be sent off for booting an object on the side of the pitch, whether or not it has been in reaction to a refereeing decision. Even players frustrated at being substituted who have done similar have received red cards before, and Arsene Wenger famously was ordered from the sidelines at Old Trafford in 2009 after he kicked a bottle following an Arsenal goal being disallowed for offside, ending up standing on a platform behind the dugout to the amusement of United fans all around him.
Gabriel Jesus a title-winning firecracker
While Wenger later received an apology from referee's chief Keith Hackett for the episode, his lazy lob towards the playing surface was arguably much less worthy of punishment than Mourinho's hoick down the touchline that could so easily have ended in amongst the fans.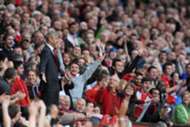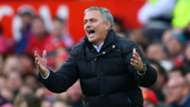 And the United boss' behaviour was completely out of proportion with the incident which preceded it too. Why did the administering of a booking 70 yards or more from the home goal have been worthy of such a response from Mourinho? Even taking into account the fact that Pogba will now serve a suspension, this was just about the most convenient fixture in which he could have received his fifth yellow card given that he now misses a League Cup match against the Hammers rather than the crunch Premier League trip to Everton.
Mourinho received the support of opposite number Slaven Bilic after the game on Sunday.  "He was next to me and from our angle it was hard to judge if it was a dive or a foul so I can understand it. But I don't want him to be sent off," said Bilic. But in many ways it was typical Mourinho that the whole episode even took place.
With almost any other manager there wouldn't have been a dismissal, but largely because almost any other manager wouldn't have responded to the yellow card as he did. When Mourinho works out how best to make use of the 'us v them' mentality which he has utilised to great effect in every management job in his career, he also needs to take into account how it might become a self-fulfilling prophecy. If you begin to react ridiculously to every free-kick that doesn't go your way, you will invariably end up with a few more reprimands to bemoan too.
At a time when his team need to find a way to turn dominance into victories, Mourinho must retain the passionate and provocative demeanour which has served him so well without becoming more of a hindrance than a help. If he doesn't start to pick his battles wisely, he will not be around often enough to lead United back on course.