A-League
'Disrespectful' - Ernie Merrick caught up in A-League coaching drama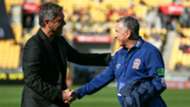 Three games played and Newcastle Jets coach Ernie Merrick has already got on the wrong side of two A-League coaches.
After losing to Wellington Phoenix in Round 1, Merrick questioned the side's ability to play an attacking style of football this season.
"I think when you play that defensive structure, if it's a draw or you're up 1-0, it really works," Merrick said.
"The problem is, when you play like that when you're down a goal, it makes life very difficult. You've got to change your whole mindset and play much more attacking football and commit forward."
While an off-hand comment, it proved true over the weekend as the Nix struggled in attack against Western Sydney Wanderers and have now gone two games without a goal.
Wellington coach Mark Rudan however felt Merrick's comments weren't appropriate when asked about them this week as they seemingly hit a nerve.
"I thought that was somewhat disrespectful, that's not how I work," Rudan said.
"I wouldn't talk about another team or what they could do better or what type of team they are.
"I think everyone has their own way of doing things as a coach and I certainly wouldn't pass comment on Ernie, I've got a lot of respect for him, but I kind of thought it was a little bit disrespectful, particularly after losing, and I thought our tactics were much better than theirs because they play a certain way, we set-up a certain way to combat what they're good at and we won the game."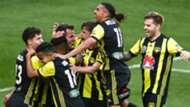 After reading Rudan's reaction to his comments, Merrick was quick to clarify what he meant. 
"It was a comment made three weeks ago after we played them saying it's a good system that worked well against us, but it's the type of system that if you go a goal down it's tough to fight back, that's all," Merrick said.
"I wasn't commenting on his coaching skill or methodology, I was actually praising him. I think he's doing a great job with the Phoenix."
Despite the unusual manner of his Rudan's run-in, Merrick also made headlines after a Round 3 loss to Melbourne Victory claiming coach Kevin Muscat refused to shake hands.
"I walked over to the bench to shake hands as I did with the assistant coach, the goalkeeping coach, the fitness coach but Kevin sprinted in the opposite direction over to his fans and I wasn't going to chase him," Merrick said. 
"I was looking forward to a handshake. 
"He's the one that disappeared, I mean I don't make a big thing of it but it's just disappointing, really. He won the game, should be happy."
When asked about Merrick's claim post-match, Muscat's response was emphatic. 
"I didn't see Ernie. That's a lie. One of you are lying," Muscat said.
"I was also waiting for a handshake prior to the game and there was none, which normally happens when you're the home team.
"If you watch the footage I shook all the officials' hands, and all their players' hands. So, it is what it is."
Having once formed a formidable player/coach pairing at Victory, Merrick and Muscat's relationship has since soured with this latest incident unlikely to clear the air. 
With his side is struggling for lift off on the pitch, Merrick clearly isn't about to stay down quietly as he causes some intriguing off-field drama.