Mexico
Diego Lainez and Roberto Alvarado look to convert from Mexico's future to Mexico's present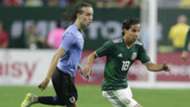 There were more than 60,000 people in attendance for Mexico's 4-1 loss to Uruguay on Friday. The majority were wearing green and watched with frustration as their team lost but also came away with some reasons for hope after strong debuts by Diego Lainez and Roberto Alvarado in the second half.
While the young wingers want to win over the fans who may be cheering them on for years to come, they will have hoped to have left a bigger impression on a few in attendance who weren't there to cheer on El Tri. A number of European scouts reportedly were in attendance, including representatives from clubs like Manchester United.
Club America already turned down a bid for Lainez from Roma, according to the Liga MX side's sporting director Santiago Banos. He also had interest from Ligue 1 sides after a standout Toulon Tournament. The work he and Alvarado have put in both with their cubs and the youth national teams has been rewarded with their senior debuts. Now they're looking for their first international starts in Tuesday's rivalry match against the United States.
"We came in doing things well, and I'm happy there may have been scouts because that means we're doing things well," Lainez said. "We're good people and we're centered so we won't lose our heads."
The scouts reportedly were in the stands not only to take a look at the 18-year-old Lainez but also Alvarado, who turned 20 on the same day he made his Mexico debut. Alvarado said he's had no direct contact with any clubs for now, though he's motivated by the idea.
"Happy for my debut, and even better that it came on my birthday. I can't think of a better gift, but this result wasn't positive for us," Alvarado said. "At the same time, I'm going home happy and will keep working to get better."
Mexico's young players have a close bond. Even Alvarado, who was a relatively late breakout player thanks to a standout season with second-division Celaya, said he's close with other up-and-comers like Lainez and Santos Laguna defenders Jesus Angulo and Gerardo Arteaga.
"We're always talking and have been waiting for this moment. Now we have to enjoy it, have fun with it, obviously with respect, and we have to take advantage of this moment to keep being kept in mind for each call-up," Alvarado said.
The first run-through didn't go so well for the young players, with a 4-1 loss against an Uruguay team that started nine of its starters from a World Cup quarterfinal against El Tri. The team improved in the second half, though, with Alvarado playing a full half and Lainez getting in for just less than half-an-hour.
"I'm really happy. It's my first brush with the senior level and I think it's good to play against these elite players," Lainez said. "You don't always play them and the first steps also are really important. It's really good to play against these types of national teams. It motivates us to get better and I'm really happy how the team functioned as well."
Function without results has never endeared players or managers to Mexico fans, though. Just ask previous El Tri boss Juan Carlos Osorio, who frustrated fans when his quest for a pleasing style of play resulted in some heavy losses. Both wingers have cool heads, though, and are taking the loss as a learning experience. That, more than any defeats in the rest of 2018, will be critical for their development as both look to convert from Mexico's future into Mexico's present.
One of the issues facing the young wingers, especially Alvarado, is the fact that winger already is an incredibly deep position for Mexico. Hirving Lozano is Mexico's next great hope, with the 23-year-old PSV winger already a regular for the Mexico senior team and likely to lead the charge into 2022 and even 2026.
But "Chucky" also lays out the blueprint for the young players. After a spell in Liga MX, Lozano departed with both a league and Concacaf Champions League championship and made the jump to Europe at a relatively young age. He now can boast of a goal and an assist at the World Cup, an Eredivisie title and, soon, of minutes in the UEFA Champions League group stage.
Lozano too was put into the national team at a young age and with time to develop - and make mistakes - became one of the team's most important pieces in Russia. Will Lainez and Alvarado be able to follow the blueprint Lozano set out? It's too soon to tell, according to Mexico interim manager Tuca Ferretti
"I think all the guys today had a really good little test, and they showed what we'd hoped to see from them: they came on, they didn't get lost, they helped the team improve," Ferretti said after the Uruguay loss. "This experience today they had, hopefully they have many more. For them to keep having this opportunity (with the national team), they have to do things well with their clubs and when they come here they have to keep that level up."
First, it's a chance for both players to earn their first starts with the team and perhaps their first rivalry win. If they do that, they'll keep turning heads in Mexico, in the United States and abroad.