United States
Dempsey leaves a legacy that will be hard for other U.S. players to follow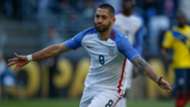 Clint Dempsey won't be returning to the professional soccer field. 
The 35-year-old hasn't been in action much with the Sounders lately, battling some persistent injuries including back issues and watching on as Seattle makes a late-season push with new forward Raul Ruidiaz leading the line. Now, he's decided it's time to end his career. 
Like so many decisions he's made during his career, whether it was to chip the Juventus goalkeeper in the Europa League ("Nine times out of 10 you won't make it but sometimes you've got to take a risk," he said) or to make a surprise switch to Major League Soccer, he's made it definitively and on his own terms. He goes out as a legend of American soccer whose brilliance with the ball and fire off it made us fall in love with the player he was.
Dempsey is a complex character. He's the most human of the national team heroes. The rapper who also wants to go fishing and hunting. The small-town boy who took to cosmopolitan London. The snarling player who once ripped up a referee's notebook but also took time to trade a jersey to a kid for popcorn or send along encouragement to a teammate. The passion he had for the game, the bit of yourself you could see in him, made him feel so approachable.
The complexities were frustrating at times as well. With Dempsey coming into stardom at the same time as Landon Donovan, exactly how the attackers were supposed to work together on the same field with the national team was at times unclear. They made it work well enough for Dempsey to end his career with three Gold Cup titles as well as a bronze ball and a spot on the 2009 Confederations Cup team of the tournament. He scored four World Cup goals, including a fortunate strike against England in 2010 that made him just the second American to score in two World Cups. There was no luck needed in 2014, when his first-minute goal against Ghana set the tone for the Americans' run in the tournament as he became the first and only American to score in three. 
The most frustrating thing about the legacy Dempsey leaves is that there aren't more of him. U.S. Soccer failed Dempsey. His family hauled him more than two-and-a-half hours each way from Nacogdoches to training with the Dallas Texans. At the time, there was no other way to get the sort of training offered by the elite youth club. Those issues persist today. Yet the player created by the elite training and mixing it up with the older and more technical players who were on the fields of East Texas (often Latino players), forced him to develop the skills that eventually would make him the best-ever American attacker. It's certainly not how you build a development system, but it worked out well for the Texan.
He now can look back on a career he closes as the best American field player ever to play in the Premier League, one of the best Americans ever to play abroad and a national team legend who is in contention to be the best player ever to wear the Stars and Stripes.
"As far as I'm concerned, Clint Dempsey is the greatest player in the history of our country," Sounders general manager Garth Lagerwey said in a news release. "His mark on both our club and the United States men's national team is indelible, and his hard-earned reputation as a trailblazer for our nation in Europe helped pave the way for generations of future of Americans abroad."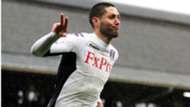 There is plenty of excitement surrounding those players for whom Dempsey blazed the trail. There should be. The time is right to look toward the future. Even in the last few months of the previous cycle, one that ended in frustration with the U.S. failing to qualify for the World Cup, it was Christian Pulisic's team, not Dempsey's. 
The last few years haven't been easy for the 35-year-old. He ends his career having won an MLS Cup, though the 2016 Sounders did much of the work without him as he worked through an irregular heartbeat that took him out of action in August of that year. He still managed to put together a second MLS career that sees him hang up the boots with 47 league goals for the Sounders, tied for first on the team's all-time list. 
It's easy to forget how unbelievable it was that Dempsey - Clint Dempsey! - was coming to MLS. This is a player who still was at the top of his game when he made the decision to come home. It's commonplace now, with American stars like Michael Bradley and Jozy Altidore following Dempsey and now Mexican national team regulars like Carlos Vela and Jonathan dos Santos doing the same. Whatever you think of those players trading more time in European football for the comforts of home, Dempsey was the trendsetter for a movement that's unlikely to stop. 
That shouldn't be a surprise. Dempsey has made the decisions he's wanted all throughout his career. Your opinion or mine won't trouble him one bit as he settles into life after soccer, casting a line, doing a little hunting or maybe even showing a child how to slip past a defender with a little bob of the head.
Even if he dedicates himself to full-time coaching, there will never be another Dempsey. He was a compelling character at a time of immense growth in American soccer. He leaves a legacy that will be difficult for the next generation to match.