Chelsea
David Luiz welcomes PFA nod but wants Premier League title at Chelsea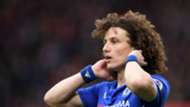 Chelsea's David Luiz would happily swap his place in the PFA Team of the Year for a guaranteed Premier League title winners' medal.
Having returned to Stamford Bridge in the summer of 2016, the Brazilian defender has displayed an added maturity to his game this season.
Those efforts have been recognised by his peers, with Luiz making the PFA selection alongside club colleagues Gary Cahill, N'Golo Kante and Eden Hazard.
David Luiz: I'm a better player now
He is, however, happy to admit that personal recognition will mean nothing if Chelsea fail to secure collective honours.
Luiz told the club's official website: "It's amazing for me but what's most important is the title.
"It's great to see the individual side and be recognised by other players. I'm working hard every day to show my best and I'm so happy but I'd change it for the title.
"If I could win both that would be amazing."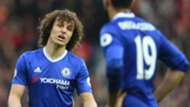 Luiz was re-signed by Chelsea from Paris Saint-Germain for £34 million and says he is delighted to have helped guide the club back to the top of the domestic pile in England having missed out on title glory in his previous stint with the Blues.
He added: "You always hope for the best and hope for great things.
"When I decided to come back I knew I would work with a fantastic coach, at a fantastic club, in a fantastic city and with many fantastic players.
Conte reveals Chelsea bonus plan
"You hope and have ambition to do something big but it depends on your work throughout the season. I think we are working very hard and trying to improve the team every day, which is why we're fighting for the title.
"It's nice to have the pressure, it means we are fighting for something big but we must keep our feet on the ground and try to do our best."
Chelsea face Middlesbrough on Monday sat four points clear of Tottenham, with the opportunity to move seven in front with just nine left to play for.