Super League
Cube Movers recover to floor Sea Com FC in Left Foot league thriller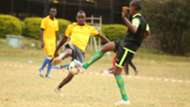 Cube Movers staged a remarkable comeback to beat Sea Com FC 4-3 in a top Division Four match of the Left Foot league played over the weekend.
Movers won the battle in the second half after goals from Daniel Isaboke, Samuel Sila, Wycliffe Ratemo and Leonard Kimotho sealed a seven goal thriller against Sea Com, who scored through Humphrey Muhindi (2) and O'Neal Soita.
In other matches, Harley's lost 1-0 to Creative Innovations while Vitambii Viishe drew 3-3 with Senti Milan FC. In Division One, West Ham United registered a convincing 4-0 win over Nyayo FC, GreenZone Property won 1-0 against Amiran Kenya, Strath FC lost 4-3 to Dayliff FC and Schindler went down 2-1 to Bethel FC A.
MP Shah were among the losing sides in Division Two after going down by a solitary goal to Saad Advocates while Bethel FC B lost 1-0 to Ping Limited, Disciples FC drew 2-2 with Cosmos Limited, Safaricom and Kingsway Tyres Group drew 1-1, HHM beat All Saints Cathedral 2-1and Toyota Kenya won 2-0 against ICJ Kenya.
In the Champions League matches played under Division Three category, One Africa Logistics won 2-0 against Mkopa Solar, Liaison Group, Advert Eyez beat Oilibya 1-0 and Lavington United Church won 2-0 against DGM Kenya Limited.
In the Mombasa league, Texas Alarms picked maximum points in Division four after a 3-1 win over Sea Bulk, Total Kenya drew 1-1 with Nation Media Group, Bamburi FC hammered CBA 8-0 while Maersk Group drew 1-1 with Tradewinds Aviation.