African All Stars
Copa Coca-Cola 2017 promises exciting football experience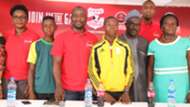 Remember the Okocha Stunt at the national finals of the 2016 COPA Coca-Cola tournament, biggest grassroots football tournament is back again, toping all others with its power packed football entertainment extravaganza.
This year's theme, "Copa gives you more" is accompanied by a new record set as 5,000 secondary schools across the 36 states including the Federal Capital Territory, Abuja battle for a chance to win the 2017 COPA Coca-Cola Trophy.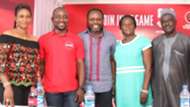 The prizes this year are mouth-watering and exceptional; Coca-Cola is introducing an Education Trust Fund worth over N22 million for players in the top three teams. They will walk away with as much as N500,000, N300,000 and N200,000 respectively. Also, the top three schools will also get cash prizes of N2.25million.
What more…? Coca-Cola is going even further by revamping the football pitches of 37 state champion schools and this is worth over N5million in total which is channelled at giving back to the society. The pitch makeover will certainly go a long way in developing grassroots football across the country.
Has your school team registered yet? If not, what are you waiting for; join in the game, get your school to register and you just might be on your way to inheriting a N500,000 Education Trust Fund.