Opinion
COMMENT: Is Matthew Rusike facing former club Kaizer Chiefs as a more complete player?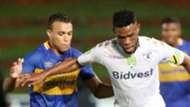 Matthew Rusike returns on Saturday evening to face his former side, Kaizer Chiefs for the very first time since joining since leaving them in June 2015. 
The Zimbabwe international recently joined Cape Town City after spending two-and-a-half years plying his trade in different countries across the world.
In the build-up to the clash, much has been said about the Zimbabwean in particular and what exact contribution he can make after he hit the ground running, scoring the decisive goal against Bidvest Wits in the Nedbank Cup, and earlier this week, the 27-year-old claimed that he was a more complete player since leaving South African shores, leading Goal to assess whether or not the former Amakhosi attacker has indeed improved as a player.
After departing Chiefs in 2015, Rusike realised his European dream as he enjoyed spells in Sweden before eventually returning to African football albeit with Tunisia's Club Africain.
Prior to leaving South Africa, the attacker had only managed 28 Premier Soccer League (PSL) appearances in three seasons, scoring three goals in the process. This is a massive contrast to Rusike's time in Scandinavia where he made 25 appearances for Helsingborg alone, banging in three goals in a single season.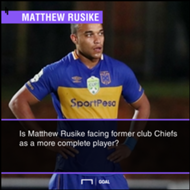 Most notably, Rusike's time in Tunisia was probably his most successful as he scored four goals in only eleven league appearances. That is almost a 40% conversion rate and certainly an indication that he is a far more experienced and improved player.
Also, after playing in North Africa, Rusike would have had to develop a big match temperament. Football in Tunisa is known for its hostility and fanatical support base which would have seen much criticism levelled against him. This would have definitely made him mentally stronger, especially when one is reminded of the criticism that Rusike sustained during his time with Chiefs.
But while Rusike does seem to be a more complete player, for a player who has been brought in at City with the intention of alleviating their goalscoring woes, it does beg the question whether or not he was the right choice for the club. The best word to describe Rusike would be 'effective' though.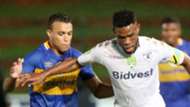 The former Jomo Cosmos player is by no means a prolific goalscorer, and his style of play is arguably more suitable to that of a winger, but after his debut against the Students, Rusike looks to have learnt a thing or two during his travels.
From his hold up play to the way he put the ball in the back of the net with his header; that was a different Rusike to the one who Chiefs fans enjoyed a love-hate relationship with.
But while first impressions are usually lasting impressions, one game is not enough to make a complete and fair judgement, and Rusike will need time to see if he can put aside his past struggles and be the player he believes he can be under Benni McCarthy.