Columbus Crew
Columbus Crew boss reveals admiration for Lalas after New England match winner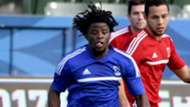 Columbus Crew sporting director and head coach Gregg Berhalter has praised Ghanaian defender Lalas Abubakar after Saturday's Major League Soccer win over New England Revolution.
The centre-back emerged hero of the night as his 85th minute goal ensured a 1-0 home triumph at Gillette Stadium in Massachusetts.
The strike was his first of the season, with the game his ninth of the campaign. 
"What I like most about Lalas, is immediately after the game, he came to me and said, 'I didn't play great.' Here's a guy that scored a game-winning goal, is on top of the world, the team wins, and he's immediately thinking 'Hey, I need to improve, I need to get better.' And that's what I love about Lalas," Berhalter said, as reported by his club's official website.
"He knows he didn't have the best night, he knows it wasn't as clean winning duels as he would've liked, but in the end, he scored the game-winning goal, we got three points on the road and we had a shutout. 
"I think he has a lot to be proud of, and I think the acknowledgment that there's still work to do is excellent."
The win took Crew to third on the Eastern Conference table. 
"I think it's a group effort," said, Lalas. 
"We play together, we fight for each other. That is what has got us here. It's a team effort, we just fight together. 
"We know they are a dangerous team, so we've just got to stick together and fight for each other."
Lalas is in his second season with the Black and Gold. 
Last term, he made 10 league appearances involving seven starts and one goal.