América
Club America's Cecilio Dominguez likely to miss Clasico Nacional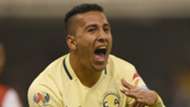 Club America midfielder Cecilio Dominguez will likely miss this weekend's rivalry match against Chivas after suffering a shoulder injury during the week.
Dominguez made way in the 66th minute of a 1-0 Copa MX victory against Coras, and multiple media reports indicate that the Paraguayan won't be fit to play in this weekend's Clasico Nacional.
Pareja fixated on MLS Cup for FC Dallas
That's bad news for Las Aguilas who sit in 12th place in the league table and are struggling to create chances. Despite that, some America players say they'll be able to top rival Chivas without Dominguez's services.
"Yes, it hurts us because of the quality he has and how he supports us in the attacking portion of the game, but there are people to replace him," midfielder William da Silva told reporters. "There are no excuses. We have to show up on the field to pay the debt that we have with our fans."
Michael Arroyo, who coach Ricardo La Volpe had dropped to the U-20 team, and Dominguez's countryman Cristian Paredes are options to supplant the injured midfielder.