PSL
Cape Town Stadium reports minimal damage to property in match between City and Chiefs
Yusuf Variava and Sandile Ndumo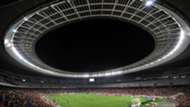 Cape Town Stadium management has responded to reports that hundreds of fans forced their way into the iconic 2010 World Cup venue on Saturday afternoon.
This follows a video which circulated recently showing fans allegedly breaching security and forcing their way into the stadium during a highly captivating encounter between Cape Town City and Kaizer Chiefs.
The match was a capacity event as thousands of fans packed the Mother City-based stadium to catch a glimpse of their favourite stars in action after the half-time break.
However, while the impressive crowd made for an enthralling atmosphere, the stadium authorities were perhaps lucky to have escaped without any casualties.
"The Cape Town Stadium is aware of the incident that occurred on Saturday, 15 September 2018 during the soccer match between Cape Town City FC and Kaizer Chiefs FC," Cape Town Stadium CEO Lesley de Reuck told Goal.
"It was reported that a group of fans managed to forcefully gain entry into the stadium via the turnstile area.  This occurred just after the match resumed after half-time. The incident was immediately contained," De Reuck added.
The scenes in Cape Town comes in the wake of a recent rise in stampedes that have taken place on the African continent.
Most recently, five fans, including two children lost their lives in a tragic incident this past weekend as fans attempted to leave Estadio 11 de Novembro in Luanda after Primeiro Agosto and TP Mazembe played out to a goalless draw.
This disaster came only a week after one fan died and several others injured ahead of kick-off, in a 2019 Africa Cup of Nations qualifier between Madagascar and Senegal in Antananarivo.
"The final Safety and Security Plan was scoped to accommodate 32 000 spectators, of which only 28 000 were in attendance. In relation to this, a small group of spectators gained access to the Stadium forcibly," the CEO expressed.
"During the post event debrief assessment it was ascertained that no injuries were reported and minimal damage to property was incurred," he concluded.