Calcutta Premier Division A
Calcutta Football League: C License mandatory for coaches in Premier Division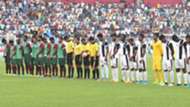 The Indian Football Association (IFA), the governing body for football in West Bengal, has made it mandatory for coaches to at least have an AFC C License to ply their trade in the premier division of the Calcutta Football League (CFL).
To increase and maintain the quality of football, it has also been announced that in two years, all coaches in the premier division should possess a B License. 
All the stakeholders met at the IFA headquarters on Saturday where secretary Utpal Ganguly chaired the meeting. Dipankar Chakraborty of East Bengal, Swapan Banerjee of Mohun Bagan and secretary of Mohammedan Sporting Club, Mohammed Kamaruddin, were present in the meeting. 
Prevously, it was mandatory for clubs to field a U-23 player in the starting XI, but that rule was done away with in the meeting. A maximum of four foreigners can be signed by any outfit and three will be able to take to the field. Nine footballers along with six officials can make their way to the reserve bench which was previously capped at seven and five respectively. 
It was also decided that four teams will be relegated and four from Premier A Division will be promoted to the top flight. CFL 2018 will kick-off on July 18.