WC Qualification Africa
Burkina Football Federation could sue Fifa for ordering Bafana Bafana-Senegal replay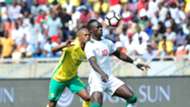 The Burkina Faso Football Federation (FBF) will reportedly sue the Fédération Internationale de Football Association (Fifa).
This is after Fifa ordered that the 2018 Fifa World Cup Groupd D qualifier between South Africa and Senegal be replayed in November 2017.
The match that has been restaged was won by South Africa 2-1 after Joseph Lamptey awarded Bafana Bafana a controversial penalty last November in Polokwane.
The Ghanaian referee was initially suspended for three months by the Confederation of African Football (Caf )for awarding a penalty for a non-existant 'handball', with Fifa handing down the life ban in March, 2017.
According to Burkina Faso head coach Paulo Duarte, the FBF are likely to argue that the decision to replay the match will have serious effect on their quest to get a place in the finals.
"Senegal is dependent on us, we are going to play to win (the next match ), and afterwards, we are going to play the last game. We will go to court, to FIFA, to CAS, in all the places where we have to claim, because what happened is weird," said Duarte on Soka25east.com.
The FBF have also issued a stamement in correspondence to the Fifa decision indicating that they are yet to make a decision.
A statement read: "Following FIFA's notification, the Legal Affairs Committee of the Burkinabe Football Federation is currently analyzing the follow-up to this decision.
"The FBF invites the Burkinabe sports public to remain united and solidarity behind the Stallions for even more victories and for a qualification for the 2018 World Cup."
The South African Football Association (Safa) has suggested they will appeal Fifa's decision to order a replay.
As things stand, Burkina Faso are sitting at the top of Group D standings with six points, but they are only ahead of second-placed Cape Verde on goal-difference.
South Africa are placed fourth with one point from three matches, while third-placed Senegal have five points having played three games.
Only the group winners will qualify for next year's World Cup finals which are scheduled to be hosted by Russia.