India U16
BRICS U-17 Johannesburg: Indian women lose to Brazil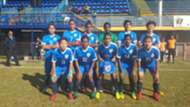 India U-17 women faced a 0-5 loss at the hands of their Brazilian counterparts in the ongoing BRICS U-17 football tournament in Johannesburg, South Africa. Brazil led 1-0 at half-time.
The junior Indian women's team earlier faced defeats against host South Africa (1-5) and Russia (1-3) while failing to be on the scoresheet in Saturday's encounter.
Indian skipper Soumya Guguloth had a couple of early chances but was flagged off-side on one occasion and shot wide in an one-on-one situation inside the opening 10 minutes.
At the opposite end, Archana Arumugam did her best to keep her side in the game. She pulled off two incredible saves in the 27th and 35th minutes but could not prevent Brazil from taking the lead five minutes before the end of half-time (40').
The South American girls scored at regular intervals in the second half. They doubled their lead by the 65th minute after dominating play in the second half.
Brazil went on to score to more goals towards in a span of two minutes (80', 81') but more damage was yet to be done as they slotted in once more to make it 5-0 by the 83rd minute.
Shukla Dutta's girls will next face China on Sunday, July 22, in hopes of a positive result in what will be India's final match of the competition.
 
Inda U-17 women's team starting XI: Archana Arumugam (GK), Samiksha, Pakpi Devi, Bannya Kabiraj, Manisha, Soumya Guguloth (C), Vanlalhriattiri, Santi Murmu, Pavithra Murgesan, Grace Lalrampari, Karishma Rai.