Cuauhtémoc Blanco
Blanco says he fears for his life after murder-for-hire allegation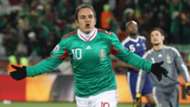 Mexico legend Cuauhtemoc Blanco says he's in fear for his life after an accused murderer accused Blanco of being the man behind the hit.
Now the municipal president of Cuernavaca, a city of around 330,000 located 50 miles south of Mexico City, Blanco said the accusations he paid 200,000 pesos (just more than $10,000) to have 24-year-old fair organizer Juan Manuel Garcia Bejarano killed are ridiculous and have caused him to fear for his life.
Pachuca withstands CCL pressure
"Yes, I'm afraid for my life, for my family, but I'm still here. I'm going strong," he told reporters Tuesday night. "This, on the contrary, still gives me strength to keep fighting against these injustices that really are aberrations and a sickness. Why do they do it? You (in the press) ask them. Why the *** do they do it?"
Garcia, who other media reports indicate was 25, was shot on horseback during a procession meant to kick off the fair. The governor of Morelos, Graco Ramirez, and other state officials have put blame for the murder down to organized crime, saying the man from Guadalajara being held in the case is a member of a cartel that operates in Jalisco.
But Ramirez and Blanco, who are from rival political parties, have been locked in a feud for much of the time the 44-year-old former America player has been in charge in Cuernavaca. Blanco has asked the office of the Mexican Attorney General, the Procuraduria General de la Republica, to investigate the incident and both clear his name and give justice in an area where Blanco believes the state's police forces can't be trusted.
SKC surges in MLS Power Rankings
"Hopefully the PGR takes charge of the case, only them. Here there isn't anything, here I've mentioned several times that here you're defenseless," Blanco said. "The governer manages everything, so you have to go to the PGR in Mexico (City) and hope the issue is really resolved because this is a disgrace."
When asked if he wanted to send the governor a message, Blanco said to remind Ramirez to "eat his fruits and vegatables."