Air India
Bimal Ghosh: I am Indian football's 'different' one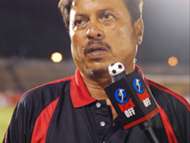 Bimal Ghosh is one of the most revered coaches in the domestic circuit, despite the fact that he has not won any major club tournament.
He has been involved with Air India for more than a decade and since his unceremonious exit in January 2010, the club's performances eventually dipped. Under his aegis, Air India was one of the most tactically sound team and had a knack of upsetting more illustrious opponents. The Cooperage stadium in Mumbai was their fortress and with Ghosh as Air Marshall, The Pilots were unstoppable. 
"In a Bengali newspaper, I came across a headline which read Amal (Dutta) vs Bimal before our match against Mohun Bagan. I smiled and took that as a challenge. They had I M Vijayan and Chima Okorie in their ranks and I was devoid of any foreigners. But in the end the score was 1-0 in favour of us," said Ghosh, reminiscing the early years of National Football League (NFL). 
History recognizes Amal Dutta as the coach who introduced the diamond system in Indian football while coaching at Mohun Bagan. But Ghosh begs to differ. 
"In that match the diamond failed to cut through us and instead we cut the diamond. I used to follow the diamond strategy four years prior to Amal Dutta. But I never said it as I always worked with small teams. I had no foreign players in my team. I had to keep my strategies foiled. If the better quality sides got a sniff of that I would have been ripped apart," reasons Ghosh taking a dig at the first-ever licensed coach in India.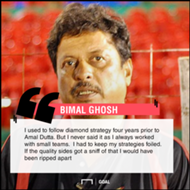 The former Mumbai Tigers coach has never been attracted by the charm of the Kolkata Maidan and has preferred to stay miles away in spite of being a Bengali. 
"I can never be a yes-man. People are laughing at the big Kolkata clubs. They talk big but do nothing. They surrendered the league to a team like Minerva who has arrived for just two years. The officials are the main culprits. They are over-confident and they think they know all but they understand nothing about football," blasts Ghosh.
Few know that both I-League winning coaches Khalid Jamil and Khogen Singh have trained under Ghosh and the veteran manager is not at all impressed by the way his students are going about with their job. 
"I went to meet Khalid in the final practice before the derby. I was shocked to find him training the boys for three hours on the field and then again taking classes for two hours. If you engage a player for five-six hours before a high voltage match, you can never win the match. This is basic knowledge. During the match I found that the whole team was exhausted in the second half. Mohun Bagan could have scored five that day. 
"Khogen Singh is head coach only by name. All important decisions are taken by the owner (Ranjit Bajaj) from diet to strategy. Bajaj does not care whether he is there or not. But he (Bajaj) takes advice from me and I help him from time to time as he is a good friend of mine," expressed Ghosh.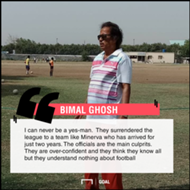 The Nagpur-based coach reveals that although he was offered to work with Minerva Punjab last season he turned down the offer as he is not willing to work under anyone's authority. He is already working to set up an academy.
"I won't work for anybody. I want to do something on my own. The players have a lot of faith on me. Last year Minerva approached me but when I went there I found out I cannot work according to their terms and conditions. My dream is to build a world-class academy so that the Indian team gets benefited.
"I know I have the capability to produce young players. Right now I am charging the candidates but later on if I spot any outstanding talent among these crop of footballers, I can waive off their fess. This will improve Nagpur football as well which is currently in a dismal state."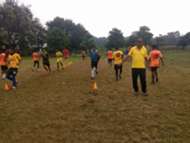 The maverick coach claims to be the first one to implement the long throw-in as a set-piece move, which has been adopted by contemporary coaches. He has an eye for talent and Ghosh goes on with a list of players who have either represented India or have turned out for major clubs in India: Nirmal Chhetri, Steven Dias, Khalid Jamil, Bikash Jairu, Uttam Singh, Raju Gaikwad, Subhash Singh, Tomba Singh to name a few. 
"The players show a lot of faith in me and in turn I polish them so that they can go on and make an impact on a bigger stage. Even last year, Rahul Das and Girik Khoshla of Minerva Punjab trained under me before they got selected in Minerva's trials."
Although India have drawn relatively easier opponents in the upcoming Asian Cup in 2019, Ghosh is not hopeful of India's chances of progressing to the next round. He is skeptical about the Men in Blues' performance outside the sub-continent and feels that against UAE and Bahrain Stephen Constantine's boys will find it hard. 
As Ghosh was preparing to rush off to a training session with a bunch of young boys and girls he reflected on the millions of academies that have mushroomed in the past few years and quipped," It is easy to open academies and make money. But it is difficult to produce quality players which will help my country progress. I am different from others and I want to remain that way."