Paul Pogba
Pogba's record against the elite is dreadful but we can't expect 30 goals a season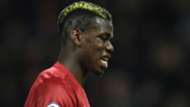 ---
COMMENT
---
Manchester United midfielder Ander Herrera issued a warning ahead of last Sunday's crunch Premier League clash with Liverpool at Old Trafford: "Paul Pogba can change a game in one second." How prescient the Spaniard proved to be, with his midfield accomplice turning the match in the visitors' favour with one dreadfully uncoordinated swing of his arm in his own penalty area. Zlatan Ibrahimovic ultimately rescued a point for United with his late equaliser but the post-match discourse was dominated by Pogba and the backlash was as predictable as it was brutal.
"Paul Pogba is very immature," declared outspoken Irish pundit and ex-Man Utd man Eamon Dunphy. "He plays like a kid. He is not worth the money they paid for him and he won't be worth the money they paid for him. He is the elephant in the room. He's useless."
The Top 20 Richest Clubs in the World
It was typical hyperbole from the attention-loving footballer-turned-writer but then, if there is someone who knows a thing or two about failing to make the grade at Old Trafford, it's the former United trainee. Still, there was no denying that Pogba had been a liability in the kind of game that United had bought him to win - not to very nearly lose.
However, while Pogba needlessly giving away a spot-kick in such awkward fashion was shocking, that it was his most meaningful contribution to a contest of this magnitude was not. This was hardly the first time that he had failed to deliver in a massive match. In general, the bigger the game, the poorer Pogba performs.
The Frenchman is an incredibly talented player, one who, at just 23, is only going to improve. As has been written on these pages before , he is, in the current economic climate, worth the world-record €105 million fee that United paid Juventus for his services last summer. He is young, gifted, charismatic and marketable, as evidenced by the fact that he last week became the first footballer to be given his own emoticon on Twitter. However, he still has to prove himself capable of stepping up to the mark when his sides need him most.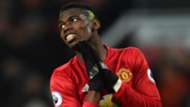 Despite playing for one of the most dominant teams Serie A has ever seen, Pogba rarely produced his very best form in Juve's most important fixtures. Granted, he had a fine record against city rivals Torino (four goals and two assists in eight derbies in all competitions), but it is also worth remembering that the Granata have beaten their Bianconeri cousins just once in the past 22 years. We are talking about one of the most one-sided rivalries in world football.
What is more significant is that Pogba never once registered a goal or an assist in a Derby d'Italia against Inter, went scoreless in every appearance against Juve's principal title challengers Roma and struck just once against AC Milan. Of course, a midfielder should not be judged on goals and assists alone, especially one whose starting position is not directly in the attacking third, but it must also be recognised that Pogba failed to leave his mark on any of the three finals he played in during his four years in Turin.
In the 2015 Coppa Italia meeting with Lazio, he was replaced with 12 minutes of normal time remaining after repeatedly ceding possession with his poor passing, while in the following week's Champions League showdown with Barcelona in Berlin, he offered plenty of perspiration but no inspiration. He did lift a trophy at the end of his last outing for Juve, a 1-0 win over AC Milan in last May's Coppa Italia final in Rome, but Pogba's error-strewn display was summed up by the squandering of a great chance to win the game in the dying minutes of normal time.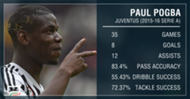 Pogba has also underwhelmed at international level. His performances at the World Cup in 2014 underlined his enormous potential and he duly walked away with the tournament's young player of the tournament award. However, he struggled to impose himself in France's only game against top-class opposition, a quarter-final meeting with Germany. There was no shame in that, of course. He was just 21 at the time and going up against the eventual champions, a side blessed with an outrageously talented midfield.
Euro 2016, though, was supposed to be the tournament at which Pogba would be crowned the best midfielder in the world; proving himself the natural heir to compatriots Michel Platini and Zinedine Zidane by carrying his country to victory on home soil. However, the man who would be king proved a royal flop.
'Useless Pogba never worth €100m'
Pogba was so poor in France's opening game against Romania that he started their next outing, against Albania, on the bench. He returned to the starting line-up for the subsequent clashes with Switzerland and Republic of Ireland, succeeding in nothing other than putting France at risk of elimination in the latter encounter by giving away an early penalty.
 
In truth, he did not make a positive contribution to France's campaign until the quarter-final win over Iceland – and even that was a rout sparked by Antoine Griezmann. Indeed, it is worth remembering that it was Dimitri Payet who dragged a floundering France side through the group stage, and Griezmann who propelled them to the final. Pogba was a passenger by comparison.
A dynamic display in the tournament decider would have changed the entire narrative of his Euro 2016 story (even Zidane missed two of France's seven games in the 1998 World Cup through suspension before netting twice in their historic 3-0 win over Brazil) but Pogba suffered the agony of defeat as France flopped against Portugal – and the added ignominy of being outshone by Moussa Sissoko.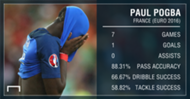 The tournament merely underlined that the general public needed to lower their expectations of a prodigiously gifted but still flawed footballer. After a record-breaking move to Manchester, that was never going to happen.
Even bigger and better things were anticipated, which is wholly understandable given the size of the fee involved, but, thus far, he has underwhelmed. His initial struggles can be attributed to the fact that he was played out of position, in a formation which did not suit his game. It had been a similar story at Euro 2016, with Didier Deschamps bizarrely opting to play Pogba in a holding role.
There is a mistaken belief that because Pogba is multi-talented, he can play anywhere. He cannot. He is neither a defensive midfielder nor a playmaker, as was so painfully underlined against Portugal in Paris. He was never entrusted with the responsibility of playing in front of the defence in Turin. Pirlo pulled the strings for Juve, while Pogba provided the power and pep.
Unsurprisingly, he has looked a little lost when asked dictate to games in the same fashion. It is no coincidence that his pre-Christmas improvement occurred after United boss Jose Mourinho decided to play Herrera and Michael Carrick alongside Pogba in a midfield three, the formation with which he is most familiar and the one to which he is most suited. Of course, Mourinho could have just listened to the man himself on the eve of his United debut in August.
"I would say midfielder on the left [is my best position]," Pogba told Sky Sports. "If you play a three I can play on the right of left, but I feel more comfortable to play on my left. I can do [the holding role], but I feel more comfortable a bit higher."
Still, the belated tactical switch precipitated Pogba's most impressive performances of his Premier League career to date. However, the challenge for him is to now to do that against the very best opposition, something which he has failed to do thus far. His only strikes since returning to England have come against four of the bottom six (Leicester, Swansea, Crystal Palace and Middlesbrough), his three assists against Palace, Sunderland and West Ham.
In United's league meetings against the top five, he was arguably decent against Tottenham and Arsenal but anonymous against Manchester City and Chelsea, and utterly dire in both games against Liverpool. His statistics from last weekend's game at Old Trafford make for particularly grim reading: his pass percentage was a paltry 72 per cent, he made just one tackle, zero interceptions and gave the ball away 22 times.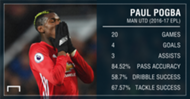 Those are numbers unbecoming of such a talent but, at the same time there must be a reassessment of just what Pogba brings to the party. This is a player who averaged seven goals and 7.5 assists per season in Serie A. It would be wrong to immediately expect greater numbers in a more competitive league and while playing for a weaker and less dominant team.
Furthermore, there is evidence to suggest that he is improving in other key areas of his game. In relation to his final season in Turin, Pogba is a lot more involved in Manchester, having more touches per game (96.2 at United, compared to 73.31 at Juve) and making more passes (72.35 to 48.54). The accuracy of his distribution has also risen, with his pass accuracy increasing from 83.4 per cent to 84.52%.
The problem is perception. Many people believe, perhaps understandably, that the most expensive player in the world should be winning games all on his own and comparisons with LeBron James do not help! But the fee is not Pogba's fault. Granted, he has not quite rediscovered his best form as of yet but he is not far off it. If that level is not good enough for supporters and pundits, then there is not much he can do about that.
There needs to be an acceptance among the Premier League fraternity that he is not a free-scoring midfielder like Frank Lampard - he certainly wasn't at Juve. He is not going to score 20  to 30 goals a season as Lampard often did. Nor is he a lynchpin like Patrick Vieira or Roy Keane. He is not as proficient defensively as either man or as intimidating a presence.
Memphis: The Ronaldo that never was
Pogba is not a midfield general, but rather an all-action hero, in the mould of Steven Gerrard, a player capable of influencing games rather than dominating them. Indeed, it is unsurprising that the former Liverpool captain is such a big admirer, describing Pogba's potential as "scary".
What is worrying is that he has yet to exhibit is the Merseysider's penchant for popping up with important goals in the most important matches. If nothing else, Gerrard was a man for the big occasion. However, he was also a flawed performer, one as likely to let his desire to make an impact get the better of him. Pogba shares some of the ex-England skipper's attributes and failings.
At the moment, Pogba is as likely to change a big game for the wrong reasons as the right ones. His goal must be to redress the balance, while we reassess our expectations of what to expect from a 23-year-old who, through no fault of his own, is the most expensive player in the world - but by no means the best.