Simba
Best best left footed players in Ligi Kuu Bara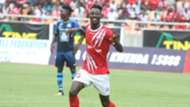 Enock Atta
The Azam star is a key player in the squad that won Mapinduzi Cup in 2018 .A skillful attacking midfielder, Atta is known for his passing and technique. 
He has a medium build that further facilitates agile mobility, Atta possesses great vision that allows him to provide assists to accompanying forwards.
Kigi Makasi
Makasi the former Young African player is a Tanzania footballer who plays for Singida United as a winger and sometimes he operates as a midfielder.
A direct powerhouse of a centre or wide forward,he knows his way around the box. 
Shiza Kichuya
Shiza Kichuya is a Tanzania player who currently plays for Simba as an attacking central midfielder or winger. He is commonly ranked as one of the best players of his generation. 
He is praised for his technique, vision and playmaking skills
Although naturally left-footed, Kichuya is very good even while taking long shots.
Emmanuel Martin
The Young African winger can destroy any attack with his dribbling and has the ability to float deadly crosses with his left foot. He can play as either a winger or attacking midfielder.
Martin is creative and a highly technical player as well as great pace, stamina and acceleration, attributes which allow him to beat players easily in one-on-one situations. He is also gifted with excellent vision, set-piece delivery, passing, and crossing ability, which allow him to function effectively as a playmaker and as an assist provider, although he is also capable of scoring goals
Asante Kwasi
Ghana left back, Kwasi is explosive on the pitch. A very versatile player, Kwasi has played in a multitude of roles, including central midfield, central defence, right and left-wing
With a high attack work rate, he threatens the opposition with his overlapping runs into the box. He shows great pace and dribbling skills. He is good at taking free kicks too. He passes well