Young Africans
5 break out stars in Ligi Kuu Bara this season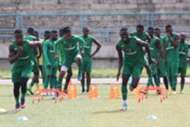 Ramadhan Kabwili - Yanga
If you're looking for a young goalkeeper to pluck from the Ligi Kuu Bara, there's really only one option: Young African Ramadhani Kabwili, opportunities for the Serengeti Boys look severely limited at Yanga due to number one goalkeeper Youthe Rostand
Yohana Mkomola- Yanga
Mkomola has been tipped to be a breakout star from last years Serengeti Boys team but has struggled to get minutes on the pitch due to Young African's wealth of talent in his position. However, due to the number of injuries in the first eleven we will likely see him receive more playing time and will give him a chance to showcase his undeniable talent.
Yahya zayd - Azam
Yahya became a regular starter for Azam towards the start of this season. He impressed with a number of solid performances that showed great potential for the future. He is the top scorer for Azam this season with more than 10 goals in all competition
Paul Peter - Azam
Despite only starting a handful of games for Azam this seasons, Paul Peter has maximized the opportunities and turned heads by bagging 7 goals in all competitions during this period with one hat trick in FA Cup.
Shaaban Idd - Azam
Shaaban Idd burst onto the scene at Azam at the start of 2017 and even kept Mbaraka Yusuph out the side for a period of time. However, he, unfortunately, picked up a metatarsal injury, which kept him out for a while, but he is now fit and impressive with more than seven goals in all competition