Ghana A'
Beating Uganda is key to Ghana's Nations Cup success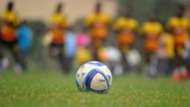 There has never been any question about the importance of an opening day win at any football tournament, particularly with momentum so vital in a competition as short and sharp as the Nations Cup . When Ghana play Uganda in their Group D opener on Tuesday, however, the three points appear more vital than ever.
The Black Stars have been frantically seeking support—or more accurately, begging for love—since their ill-fated campaign at the 2014 Fifa World Cup.
Tears have been cascading, pleas have been many, and as we've had it, players turning their 'last words' of interviews into love campaigns has become a thing.
But could there be a better appeal for fan support than a convincing opening day triumph?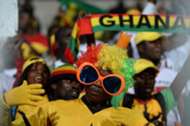 To add another element to the mix, not only have the Black Stars struggled for love and affection, but they have almost completely lost the confidence of the nation, and perhaps, their own as well.
The invincible set-up, Ghana fans once fawningly believed, has struggled to hold its own against the likes of Comoros, Rwanda and Uganda.
Winless in their last five matches in all competitions, the journey to regaining lost confidence—which, in fact, will be crucial to their performance in Gabon—cannot start any later than Tuesday.
Speaking of Uganda, amazingly, the Black Stars have failed to beat the Cranes in their last three meetings.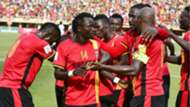 Both teams find themselves in the same group for the 2018 World Cup qualifiers, and the repercussions of a humdrum opening day stalemate in Tamale have been there for all to see.
Ghana fans may not wish to accept the notion of a rivalry against the East Africans, but the clamour to silence Milutin 'Micho' Sredojevic's side once and for all only seems to intensify with each meeting.
A quick glance at the group, and it doesn't take much to notice that Ghana's biggest challenge, perhaps, lies beyond Tuesday.
On paper, as a matter of fact, the Cranes, who are set to make a return to the Afcon after 39 years, do not look as dangerous as 1972 runners-up Mali and seven-time champions Egypt.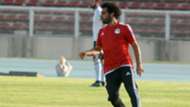 It's fair to say that a win on Tuesday will be the first step towards reaching the last eight, and an imperative step, considering the challenges to come.
"Ghana will be our biggest test, they will always be," Cote d'Ivoire forward Salomon Kalou once told Omnisport, hinting at the kind of respect Ghana are afforded across Africa.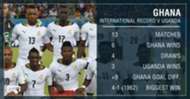 Ghana must use this status to their advantage; the more ruthless they are on Tuesday, the louder the roar of the dragon.
The connoisseurs have consistently highlighted the difficulty of achieving and the accompanying reward for an opening day victory.
With every team seeking to 'start well', it's not hard to understand.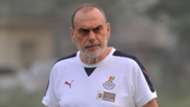 To some pundits, winning your first game is the equivalent of clearing your toughest hurdle, and while three points could help Ghana relax and give them the momentum to go on a deep run in the competition, a loss could prove fatal.
Only days before the Nations Cup began, Ghana swore in a new president, whose arrival was accompanied by a feastful mood at Black Star Square as the people began to look towards a new beginning.
The sentiment exists as far as the national team is concerned as well, and Grant and his troops can ill afford to fail this maiden test.
The significance of anything other than a victory, particularly considering the pessimism surrounding the team, wouldn't be lost on a country that is as aware of itself as ever.