African All Stars
Barcelona's Ballou Tabla undecided on Cote d'Ivoire future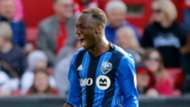 Barcelona youngster Ballou Tabla has stated that he is not decided on whether to represent Cote d'Ivoire or Canada at international level.
The Abidjan-born midfielder who was raised in Canada is eligible to represent any of the countries, despite playing for the North American nation at U17 and U20 level.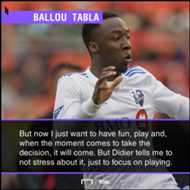 Following his move to Barcelona in January, Ballou is focused on his time with the team's B side in the Spainish second tier, having made six league appearances so far. 
"It's a big decision for me. I am proud when I hear about him[Drogba], when people talk about him, because when people talk about him they talk about Ivory Coast," Ballou told ESPN FC.
"But now I just want to have fun, play and, when the moment comes to take the decision, it will come. But Didier tells me to not stress about it, just to focus on playing.
"I don't think he was that young when he started playing with the national team - he was maybe 24, 25, so you just have to focus on your club, enjoy the experience and the time with the national team will come. There's no rush."
The 18-year-old was an unused substitute for Barcelona in their Catalunya Super Cup triumph over Espanyol on March 7.
And the former Montreal Impact sensation has lauded Drogba, his former teammate in Montreal for his counsel.
"I can't say for sure [what his role was], but he was inside the deal. He was a big part of me coming to Barcelona. I am very thankful for that," he added.
"Every week we talk, he calls me, I call him. I tell him how it's going here, he gives me some advice. He's a big brother for me. He's busy but he watches my games when he can, he checks in and he tells me what he saw and what I can do better.
"It's very big to have him by my side. He did a lot in his career - he's a legend. If I want to be like him, I have to listen to what he says and take all the advice he gives me."