Transfers
Barcelona, Mourinho and the winners and losers of the summer transfer window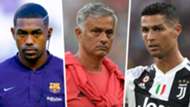 ---
WINNERS: BARCELONA
---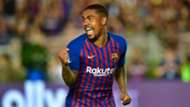 The summer window could not have gone much better for Barcelona, who successfully hijacked two transfers, as well as persuading Everton to take on most of their dead wood.
While Inter should probably bear most of the blame for Arturo Vidal rocking up at Camp Nou given the way the Nerazzurri got distracted by the enticing prospect of signing Luka Modric from Real Madrid, the way in which Barcelona stole Malcom away from Roma undeniably killed off the Blaugrana's 'Mes que un club' image once and for all.
Still, Ernesto Valverde will not mind. Malcom's arrival has added further depth to Barca's attacking department, while at the same time seemingly sparking Ousmane Dembele into life, while the veteran Vidal adds steel and experience to a midfield that will also benefit enormously from Arthur Melo's finesse.
Clement Lenglet has also arrived to strengthen the centre of defence and his €36 million (£32m/$42m) transfer was almost completely covered by the remarkable sale of Yerry Mina to Everton for a €30m (£27m/$35m), a staggering fee for a player who struggled horribly after arriving in Catalunya in January for just €12m (£11m/$14m).
The Toffees also handed over €20m (£18m/$23m) for reserve left-back Lucas Digne, and €2.25m to take the confidence-sapped Andre Gomes on loan for a season.
Sevilla stumped up an additional €8.5m (£8m/$10m) for Aleix Vidal, while Sassuolo paid an initial €6m (£5m/$7m) for Marlon, making this an incredibly lucrative summer for Barca, who needed to balance their books ahead of the commencement of the redevelopment of Camp Nou next year.
Paco Alcacer's departure for Dortmund leaves Barca without an obvious Luis Suarez understudy but, all in all, this is a deeper and better-balanced squad than the one that recorded a double last season.
---
WINNERS: SERIE A
---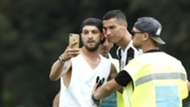 Like millions of Serie A followers, Christian Vieri could not contain his excitement when it emerged that Cristiano Ronaldo was actually on the verge of joining Juventus. "For Italian football, this would be like winning the lottery," the former Inter striker enthused.
Certainly, the financial benefits of Ronaldo's arrival have, and are, already being felt, both in Turin and beyond. Juve's shirt sales and share price have both sky-rocketed, while broadcasters across the globe have subsequently acquired the TV rights for Serie A just to see how the Portuguese performs.
Perhaps even more significantly, CR7's bold decision to ditch Madrid for Juve has even capture the imagination of the game's greatest players. 
"I think Cristiano Ronaldo will change Italian football," Neymar prophesised. "It will once again be the Italian football I watched as a child."
Serie A still has some way to go before it reclaims its status as the pinnacle of the footballing world, of course, but, as Fabio Capello pointed out, the league has undeniably been presented with an unexpected opportunity to relaunch itself.
"TV rights and merchandising allowed England, Germany and Spain to overtake us, but with Cristiano Ronaldo we can try to lift our heads again," the former AC Milan coach argued. 
"Certainly, Ronaldo alone is not enough. We need to have the strength and intelligence to exploit this Ronaldo stimulus to give a boost back to our football.
"But Ronaldo's arrival means that people are speaking about the Italian league again."
And that is a pretty fine start.
---
WINNERS: LIVERPOOL
---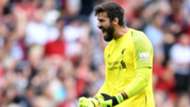 When Liverpool broke the transfer record for a goalkeeper in July, just six months after breaking the transfer record for a defender, Jurgen Klopp was mocked in some circles over his previous comments on rivals essentially trying to buy success: "Do I have to do it differently to that? Actually, I want to do it differently. I would even do it differently if I could spend that money."
So, why then, did he sanction the acquisitions of Alisson and Virgil van Dijk for £56m ($73m) and £75m ($97m), respectively? For the same reason that he also paid a grand total of £57m (£74m) for Naby Keita, who also arrived this year – because Liverpool were short in quality in three key areas.
And, as Klopp explained, "Quality costs a specific price." And nobody is querying the size of those transfer fees now, with Liverpool having made a 100 per cent winning start to the 2018-19 season, and without conceding a single goal to sit top of the Premier League.
The Reds finished fourth last season and reached the final of the Champions League with a top-heavy squad overly reliant on the brilliance of attacking trio Mohamed Salah, Roberto Firmino and Sadio Mane but with Alisson, Keita, Fabinho and Xherdan Shaqiri (who should allow Klopp to rotate his front three with greater regularity) now on board, they look a far more balanced outfit.
Whether Liverpool will end up as champions of England remains to be seen but they are undoubtedly one of the winners of this summer's transfer market. 
---
LOSERS: REAL MADRID
---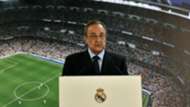 When Real Madrid fans saw Cristiano Ronaldo follow Zinedine Zidane out of the Santiago Bernabeu, they fully expected club president Florentino Perez to replace the Portuguese superstar with a marquee name. 
Thibaut Courtois has arrived from Chelsea but the Belgian hardly represents a significant upgrade on Keylor Navas, just named UEFA's goalkeeper of the year and still in possession of a starting spot under new coach Julen Lopetegui, while Mateo Kovacic was allowed to move in the other direction.
Luckily, Luka Modric was prevented from absconding to Inter but the wait went on for Perez's late Galactico. But not one of Neymar, Kylian Mbappe, Eden Hazard or Harry Kane arrived in the Spanish capital.
Instead, Real will begin their bid for a fourth successive Champions League with Mariano Diaz as their new No.7, the same Mariano Diaz that the Blancos had sold to Lyon a year ago for just €8m (£7m/$9m). 
Granted, the 25-year-old enjoyed a fine season in Ligue 1, netting 18 times in 34 appearances, but he was not the signing that the Real supporters wanted to see their side make before the close of the summer transfer window.
In truth, Perez didn't even want Mariano, at least not initially, according to Lyon president Jean-Michel Aulas: "Mariano said to me that he wished to go to Madrid and that is why he rejected the Sevilla offer. 
"I informed Florentino Perez but his response was that Mariano was not the player they were in the market for, before making the offer."
Real's decision to hijack the move to Sevilla by enacting their buy-back clause, thus, smacks of desperation but it will do little to appease the fans, whose dissatisfaction with the club's transfer dealings was one of the reasons why only 48,000 of them turned up for the Liga opener against Getafe – Real's worst gate since their final fixture before Ronaldo's arrival.
His departure has now left a gaping void that has not yet been filled. Yes, there are reasons for optimism – Marco Asensio is an exceptional talent, while Gareth Bale is enjoying a sustained run of excellence and, more importantly, games – but Madrid's squad is undoubtedly weaker than it was last season.
The UEFA Super Cup has already been lost. One wonders if Madrid's previously irresistible financial might is on the wane too.
---
LOSER: JOSE MOURINHO
---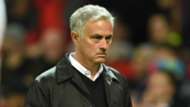 It was amusing to hear Manchester United boss Jose Mourinho demanding greater respect from reporters after Monday night's 3-0 loss at home to Tottenham, given he has never had the courtesy to afford rivals or referees any throughout his coaching career.
However, the Portuguese's increasingly petulant and often downright bizarre behaviour is no laughing matter at Old Trafford, where chaos and confusion reigns, on and off the field.
The reason for Mourinho's discontent is, of course, Ed Woodward's refusal to sign a centre-half during the summer transfer window and he certainly has grounds for complaint if United's executive vice-chairman did indeed counter by claiming that there were no centre-halves out there better than United's current crop of calamities. 
Indeed, Mourinho's team selection for the shambolic showing against Spurs - deploying midfielder Ander Herrera on the right-hand side of a previously untested back three - appeared like a pointed message to the board: "Look what I've had to resort to!" 
However, the inconvenient truth for Mourinho is that he had nobody but himself to blame for the shambolic showing against Spurs, with the hapless Herrara ultimately exposed in an unfamiliar position. It cannot be forgotten either that it was Mourinho who pushed for the arrivals of Eric Bailly and Victor Lindelof, both of whom had been dropped after their dismal displays at Brighton the previous weekend.
In essence, he has stripped innumerable players of confidence with his repeated and rash chopping and changing.
That his side's defensive frailties were brutally exploited by Mauricio Pochettino's Tottenham team only cast Mourinho's moaning in a more unfavourable light, given the Argentine's squad hadn't been strengthened by a single summer signing.
It has been suggested that Woodward has unwittingly given Mourinho a way to explain his failure at Old Trafford, should he be eventually dismissed. 
But the fact of the matter is that the summer window, and indeed this whole affair, has merely exposed Mourinho's inability to get the best out of the players he has at his disposal, and his reliance on ready-made solutions to solve problems he himself has created.
---
LOSER: JOAO MARIO
---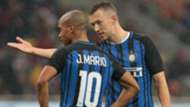 When several members of Portugal's Sporting CP contingent terminated their contracts with the club this summer, Inter's Joao Mario was quick to publicly advise them against even considering a switch to Serie A.
The midfielder's stance was hardly surprising. Joao Mario has endured a torrid spell at San Siro; so difficult, in fact, that he was even willing to join West Ham on loan for the second half of last season.
Things didn't go much better for him in London, however, and a permanent move never materialised.
It was still expected that Inter would be able to find a buyer for a man who represented the Seleccao at the 2018 World Cup and Seville looked like the most likely destination until Betis decided to pursue Giovani Lo Celso instead.
As a result, Joao Mario is still stuck at Inter, where he has been repeatedly booed by his own club's supporters, and where he has yet to see a minute of Serie A game time so far this season.
Indeed, it's likely his only run-outs will come in the Coppa Italia, as the €40m (£36m/$46m) man is certain to be left out of Luciano Spalletti's Champions League squad because Inter are only allowed to register 22 players for this season's competition after falling foul of Financial Fair Play (FFP) rules.
All in all, it's going to be another miserable season in Serie A for Joao Mario.