Africa Cup of Nations
Baba injury threatens to derail Black Stars' campaign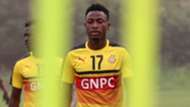 Ghana got their Nations Cup campaign off to an ideal start on Tuesday when they beat Uganda 1-0 in Port-Gentil to take control of Group D, but it was a victory marred by a knee injury sustained by Abdul Rahman Baba.
The Schalke 04 man was stretchered off in the 39th minute following a collision, having immediately turned to the touchline and indicated that he needed to be replaced after falling to the turf.
Initially, it had looked as though the left-back had aggravated a recent thigh injury, although Baba himself clarified the situation by telling Goal that he'd twisted his knee and that the pain was already subsiding.
The player appeared optimistic that within a few days his discomfort would have subsided and he'd be able to continue as part of the Black Stars' campaign. That hope was ended on Thursday when it was confirmed that the player was returning to Germany for treatment, signalling an end to his Nations Cup.
It's news that takes the gloss off Ghana's opening triumph, and leaves the Black Stars defence with a gaping point of weakness as they head into Saturday's showdown with Mali.
For the remainder of the victory over Uganda, Grant opted to use Frank Acheampong on the left-side of the defence, with the Anderlecht man reprising a role he's occupied at various points in the past for the national side.
Notably, there was his exceptional display against Senegal—a friendly in March 2015—when he earned plaudits for a fine showing which included an outrageous last-gasp tackle to deny a marauding forward.
However, Acheampong remains a wide midfielder, an attacking talent who has no long-term track record of flourishing as a full back, and would be overachieving if he proves able to keep some of the continent's best forwards at bay over the coming weeks.
Unlike Baba, the 23-year-old also has no long-standing relationship with the rest of the backline. Ghana have gone from having one of the most settled defences on the continent to a very unfamiliar defensive unit of Brimah-Afful-Amartey-Boye-Acheampong-Partey in the space of a week or two!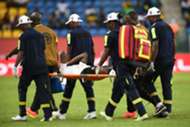 Against Mali, for example, it will be intriguing to see how the diminutive Acheampong fares against the powerful Sambou Yatabare or the inventive Bakary Sako, while Egypt's Mohamed Salah represents another fearsome challenge.
Grant may be tempted to employ Jonathan Mensah, who featured at left-back earlier in his career, on the flank, while the versatile Amartey could also step across, allowing Jomens to join Boye in the middle.
Another option could see Afful switch flanks, particularly with a recognised reserve right-back in the squad, although it would be a major test for Andy Yiadom to immediately take a starting berth in the team.
The reason this uncertainty exists—and why Ghana's primary solution is likely to be an attacking midfielder—is because of Grant's decision to omit Jeffrey Schlupp from his Afcon squad.
In Leicester City man and Premier League winner Schlupp, the Israeli coach had one of Africa's best reserve left-backs, and an ideal rival to and replacement for Baba.
The irony that Schlupp is needed most at the moment that Grant finally gave up on him won't be lost on the Israeli coach.
The local media may well just use it as another stick to beat the former Chelsea man with, but this is one issue where Grant himself—and hindsight is a beautiful thing—will surely be ruing the risky last-minute call to cull Schlupp.