UEFA Champions League
Atletico Madrid will have an easy ride in Group A, says Yisa Shofoluwe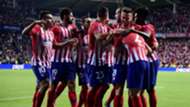 Former Nigeria International Yisa Shofolowe has tipped Atletico Madrid to easily top Group A of the Uefa Champions League when the club competition's group stage kicks off next month.
The Spaniard have been pooled in Group A alongside Borussia Dortmund, Monaco and Club Brugge in the draw conducted on Thursday.
According to the 50-year-old, the Atletico Madrid side that won the Uefa Super Cup at the expense of fierce rivals, Real Madrid will be too hot for the remaining teams.
"Atletico Madrid will have an easy ride qualifying from the group," Shofoluwe told Goal.
"Monaco, Club Brugge and Borussia Dortmund will fight for the remaining slot. Dortmund have a slight edge ahead of Club Brugge and Monaco.
"I don't think Atletico have any serious competitor in their group if we look at what the other clubs have achieved in recent seasons. I fancy the chance of Borussia Dortmund too but they will struggle against Atletico. Their best bet is to fight for the second position.
"Monaco used to be a force in the past and they actually picked up a little two seasons ago when they got to the semi-final of the Champions League and also won the French League at the expense of Paris Saint Germain. I feel that all that has changed now after they turned to a selling club."
He added that the competition is likely to produce a new winner this season after Real Madrid have dominated the past three editions.
"The competition will change hand this time around," he continued.
"Real Madrid won't have it easy like they have done in the last three seasons. Juventus have done very well with the players they have recruited. Barcelona, Liverpool, PSG also have outside chance to win it.
"But with adequate preparations, Juventus will go far. I will say it is still too early to stick my neck on anything for now but by the time the knock out stages start we know who the real men are."