Atlético Madrid
Atletico boss Simeone explains why 11-goal haul isn't enough for him to sign his own son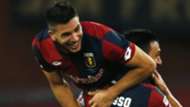 Diego Simeone is a notoriously tough man to please and the Atletico Madrid boss has explained why he will not be signing his son Giovanni.
It may appear as though the Argentine is looking to impart some tough love on his offspring, but he insists that is not the case.
Giovanni Simeone has been impressing in Serie A with Genoa this season, netting 11 goals in 28 appearances.
Griezmann could leave, admits Simeone
That is considered an impressive return for a 21-year-old forward taking in his first season in Europe following a move from River Plate.
It is, however, not enough to convince his father that it would be worth bringing the family together on a professional level.
For the Atleti boss, working with his son would be too emotionally draining, with the potential there for him to be put in difficult situations that he does not want to face.
Simeone Sr told El Pais: "It would be too big a sacrifice and playing football shouldn't be a sacrifice. It is just a game, even though it is played by professionals.
"Giovanni has had a fantastic year at Genoa and scoring 11 goals in Italy in your first year isn't easy.
Simeone updates on his Atleti future
"Thinking about seeing him in one of my teams would mean giving him a responsibility that wouldn't be good for him.
"Giovanni has qualities that I like a lot and with effort and hard work he will definitely become a big player, but not with my team.
"There are a lot of clubs that can give him great opportunities."