Arsenal
Arsenal told they have made 'perfect signing' in free agent Kolasinac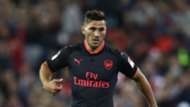 Sead Kolasinac has been billed as "the perfect signing for Arsenal" by Timo Hildebrand and tipped to take the Premier League by storm.
The versatile 24-year-old became the Gunners' first signing of the summer as they acquired him as a free agent in June.
Arsenal to win any major trophy - 15/8
Arsene Wenger made his move after seeing the defender, who can also operate in midfield, approach the end of his contract at Schalke.
He is considered to be a shrewd acquisition for the present and future, with former team-mate Hildebrand convinced that that the Bosnia international will go from strength to strength in England.
"He is so strong that nobody can stop him," Hildebrand told Sky Sports.
'Alexis must have given Arsenal hope'
"He is really strong and also a fighter. He had those qualities even when he was a young player coming through the ranks at Schalke.
"He is a very good player and I think he is going to do well in the Premier League. He is the perfect signing for Arsenal."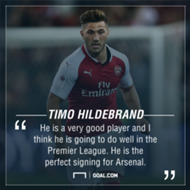 Schalke's former sporting director, Gerhard Zuber, agrees and sees Kolasinac cementing himself as a regular part of the Arsenal fold.
He said: "I know him very well.
"Sead was one of the players that I knew from when we were at VfB Stuttgart.
"We drafted him from the Under-17 team at VfB Stuttgart and took him to the Under-19 team at Schalke 04.
'Arsenal should get Mahrez not Barkley'
"I loved him because we always thought he had the spirit and all the skills required to be successful in the left-back position."
Kolasinac linked up with Schalke in 2011, made his Bundesliga debut in 2012 and made 123 appearances for the club before opting to take on a new challenge.
He has been joined at Arsenal by Alexandre Lacazette this summer, with Wenger admitting that there could be further additions to come before the window slams shut at the end of August.