Super League
Andik's return introduces more lethality to Selangor's gameplay - Maniam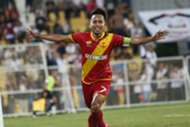 ---
BY        ZULHILMI ZAINAL       Follow on Twitter
---
Apart from his praise for youngster Syahmi Safari, who scored a brace in their 4-2 win against T-Team in their Super League match on Saturday, Selangor head coach Maniam Pachaiappan also hailed the contribution of star winger Andik Vermansah.
The Indonesia international, having finally recovered from the lengthy injury he picked up while playing in the AFF Championship late last year, tormented the visitors' defence with his penetrating runs, and provided two assists in the match that was held at the Selayang Municipal Council Stadium.
"When Andik had the ball we looked dangerous when attacking, and there are a lot of positive things in Andik.
"He did not score but his contribution was massive," said Maniam in the post-match press conference.
Against T-Team, Syahmi opened the scoring in the 53rd minute, before Forkey Doe doubled the hosts' lead just two minutes later. Dilshod Sharofetdinov pulled one back for T-Team in the 72nd minute, but the Red Giants pulled away through Rufino Segovia's 82nd minute goal, and Syahmi's second three minutes later. T-Team's new signing Yannick N'Djeng scored his first for the Titans and their second of the night in the 88th minute.
Selangor vs T-Team match highlights
He also praised new signing Rufino Segovia, who scored his first competitive goal for the Red Giants in the match, and expects more of the Spaniard.
"Rufino lacked the combination, but he's been working very hard.
"I think in the coming games he will do very well," said the former Selangor player.
When asked for his thoughts on the match, Maniam said that his charges did well to overcome their lack of finishing in the first half, and the younger and the more senior players combined well to produce the win.
"In the first half we created two or three chances but we lacked the finishing. But we began the second half more strongly, and played positively especially in the attacking third.
"We created chances and put them away, but our defending was a little lacking. We need to work on this. I think our players especially Amri [Yahyah], Rufino, and the more senior players did very well,"
"The younger players did well too, such as Adam [Nor Azlin] who played in his new position as a centre back effectively. Syahmi also scored two goals, and his confidence level should grow after the game. We will do well in the Malaysia Cup," explained Maniam, referring to the start of his team's campaign in the cup competition this Tuesday.