Transfers
Alonso quashes Real Madrid return rumours by airing Chelsea ambition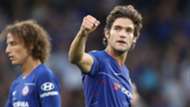 Marcos Alonso claims to be "happy here at Chelsea" after sparking talk of a possible return to Real Madrid.
Born and raised in the Spanish capital, the 27-year-old left-back began his career on the books of his hometown club.
He was forced to go in search of regular first-team football elsewhere, with that career path eventually leading him to Stamford Bridge in 2016, but a second stint at the Santiago Bernabeu has been mooted.
Alonso has, however, suggested that his long-term future lies in west London.
He has already tasted Premier League and FA Cup glory with Chelsea, as well as making his senior international debut for Spain, and has told Sky Sports: "I feel good. I'm enjoying the new manager, I'm enjoying my team-mates, I'm happy here at Chelsea
"I'm obviously still hungry for more. It's going to be a tough season, lots of teams are fighting for everything but I want to win all the titles we are playing for.
"For that we have to work hard and I have to be ready for tough times.
"It's never easy to get the points at the beginning of the season and even more with a new manager. We are still on our way to where we want to get.
"I think we are doing well and getting points but we still have to improve and we still have to play better. If we do this we will be up there fighting for every title."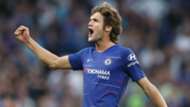 Alonso has helped Chelsea to make a faultless start to their 2018-19 campaign, collecting five Premier League wins and an opening victory in the Europa League group stage.
He has contributed one goal and two assists to that cause, with their a determination on his part to offer even more as he chases down a standing as the best left-back on the planet.
"That's why I came to Chelsea," Alonso added.
"When you come to one of the top teams in the world with some great players, you can fight for that spot and that's what I try to do.
"I want to keep improving and to work hard to be one of the best. I want to score more goals, I want to give more assists, I want to do more tackles.
"Everything I can do to help is good for the team and good for myself."