Premier League
Alexis gains breathing space from troubled Arsenal - but will he want to go back?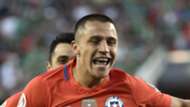 ---
COMMENT
---
Even with the heavy blow sustained to his left ankle at the weekend, there was little doubt that Alexis Sanchez would get on the plane to Santiago. The Chilean lives and breathes to play for his country, and despite his physical discomfort would not pass up the chance to play in two vital World Cup qualifiers in the space of the coming week. 
This time, however, there may have been extra motivation to fly back home. The atmosphere at Arsenal has become insufferable, and the Tocopilla native if nothing else must have been eager to escape the endless Premier League rumour and, perhaps, even his embattled manager Arsene Wenger. 
"It does not look good," Wenger told reporters after Alexis was forced to limp off in the second half against West Bromwich Albion. The veteran Frenchman loathes international football, and has railed in particular against his star's gruelling trips to South America on more than one occasion. The implication was clear: if Sanchez wanted to skip the qualifiers and spend a week resting, Arsenal were more than willing to give him that opportunity with the convenient excuse of a swollen ankle. 
But there was no chance. Wenger might well end up staying at the Emirates Stadium beyond yet another season on chronic underachievement, but all signs indicate if he remains his Chilean ace in the hole will seek new climes. Indeed, one could hardly blame the forward should he rip up his return ticket and ride out the storm at a safe distance in South America.
Chile represents everything Arsenal are not in these troubled times. The Andeans are back-to-back Copa America champions, traversing the most successful period in their history and, despite some teething problems when Juan Antonio Pizzi replaced Jorge Sampaoli two years ago, on course for a third consecutive World Cup appearance for the first time in history. 
Alexis is adored in the streets of Santiago, feted as a demi-god. Those ardent Roja fans are puzzled as to why their talisman is slogging away in a club that under Wenger has slipped to the second tier of European football. Some even organised a protest against staying in Arsenal, although it eventually turned out to be an hilarious farce. 
His return to Chile also gives him the chance to have a long overdue conversation with fellow idol, Arturo Vidal. "I have a lot on my plate with Bayern and with my family, that doesn't give me much time to think about Alexis," the dynamic midfielder had told reporters after doling out a 5-1 drubbing of Wenger's men in the Champions League, when quizzed on Alexis' future.
"I haven't spoken to him because he is very concentrated here, in the national team we will speak but we don't have much communication at the moment."
Another man keen on a reunion with Sanchez with none other than Sampaoli. The diminutive coaching genius is winning rave reviews in his first season at Sevilla, despite seeing the Andalucians' Champions League dream collapse thanks to Kasper Schmeichel's giant gloves. And when asked about the possibility of taking Alexis to Sevilla, he did not hold back. 
"A reunion? If only! Yes, it would be great to get the chance one day," he said.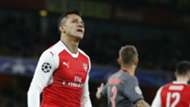 "He is a top player, one of the best forwards in the world I would say. I was lucky to enjoy sharing a time with him in the national team, we went to the World Cup and won a Copa America together. It was a very satisfying moment of my career and great to share it with Alexis."
Dynamic, imaginative and not afraid to experiment, Sampaoli is the antithesis of tired Wenger. The Argentine has taken Spain by storm while Arsenal have floundered, and Champions League football is almost guaranteed for next season even at this early stage. But he will have stiff competition. Alexis and fellow wantaway star Mesut Ozil are reportedly ready to pack their bags if Wenger agrees to one more year and they will have no shortage of suitors ready to swoop. 
VIDEO: Robben strop laughed off
Chile travel across the Andes to the Estadio Monumental on Thursday, where Argentina lie in wait hoping for some measure of revenge for those two Copa America reverses. Sanchez and Co. then return to Santiago, taking on Venezuela in the Estadio Nacional. And while his fitness was in doubt at first, the forward is expected to make a full recovery in time to tangle with the Albiceleste.
Positive results in this double-header will all but assure La Roja a place at Russia 2018. They will also be the last competitive games played by Pizzi's men until September, when the final straight of the race to Russia begins. 
Will Alexis still be at Arsenal when those matches come around? Right now, it appears unlikely. The forward should enjoy his safe haven in South America while it lasts this week: what follows is another grinding treadmill of rumour, speculation and crossed words while he waits for Wenger to decide his next move.