I-League
Albert Roca - Shivajians deserved to win against Bengaluru FC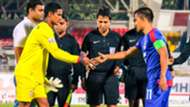 Dave Rogers was a happy man as his players gave it their all and held the reigning champions 2-2.

He would have however been happier if they would have held on to their nerves and picked up a victory.

"We've just thrown away three points against the champions. I am nonetheless so proud of all my players and for 72 minutes we were on the top against the champions," remarked the Shivajians boss. 

Wenger: Chelsea loss hard to watch

Pinning it down to a lack of concentration, Rogers said that his team needed to be more focused, especially in the dying moments of the games.

"We need to cut down errors as we again conceded so late in the game. It's a lack of concentration that cost us these two goals and a victory," he reasoned out.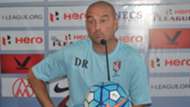 The Englishman also slammed the federation for what he considered bizarre fixtures where a team often played four away matches in a row and said he echoed the statements of almost all the managers in the league.
"As I have said before It doesn't affect us. We would have played the games anyway. What I would like to know is who is the guy who brought out these fixtures. Not just for me, for every football club in the
I-League
. This is because I have never in my life seen clubs in any league all over the world, having to travel for four away games, five away games. It doesn't make sense. Give us some answers," he railed.
Meanwhile Bengaluru boss, Albert Roca was candid in admitting that for the majority of the game, DSK were the better side, and deserved more than a point.
"Perhaps today for a long period of the game, they deserved to win because they played better," he exclaimed.
Hazard: No good when I am not kicked
The Spaniard said that the mood in the camp was not good going into the match, courtesy the three defeats before this and injuries piling up were also not helping the process.
"Just to be honest we came here a little bit down after losing three games. It was difficult for us, also with a couple of injuries we have especially in defense," said an anguished Roca.
Even though the champions are languishing at the fifth spot on the table, Roca did not rule anything out.
"We have to try to improve, to get better in all terms and even though it is a short league, it is a tight league and anything can happen," he concluded.