CAF Champions League
Al-Ahly, Esperance match director admits missing Walid Azarou shirt-ripping incident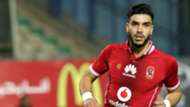 Match director of the Caf Champions League final, first leg between Al-Ahly and Esperance, Hesham Abdel-Wadoud has conceded that he did not witness Azarou tearing his shirt during the match at Alexandria's Borg El Arab Stadium.
The Moroccan striker has since been suspended by Caf for Friday's second leg in Rades after he also allegedly punched an Esperance player.
Abdel-Wadoud admitted that he missed the shirt-ripping incident during the match which saw Al-Ahly romp to a 3-1 victory.
"I am not the source of the footage of Azarou," Abdel-Wadoud was quoted a saying by Kingfut.
"This snapshot was produced by the VAR room. If I had saw the incident live I would have broadcast it during the game normally. My duty is to transmit what happens without interference."
The shirt –tearing incident angered Esperance and sparked a complaint to Caf by the Tunisian club who also were at the end of Azarou winning two penalties for Al-Ahly.