Aidil Sahak
Aidil Sharin, Singapore's very own Pep Guardiola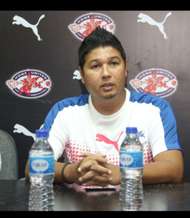 Helping Home United reach the AFC Cup Asean zonal final twice allowed Protectors head coach Aidil Sharin to write himself into the history books as no Singaporean coach has ever done it.
In an exclusive interview with Goal.com Singapore, Aidil touches on his coaching philosophy and reveals how he masterminded that famous victory over Persija Jakarta in the footballing cauldron that is the Gelora Bung Karno Stadium.
A former player for the team who patrolled Home's midfield from 2002 to 2006, the 40-year-old has been a part of Home United since the club's early years, joining in 1996. However, it was the Community Development Council (CDC) that gave him his first opportunity to coach, where he guided underprivileged children in football on weekends.
He then progressed to coaching the Home United youth team, and eventually made his way into the position of assistant coach to the first team in 2012. Next, he would replace current Hougang United Philippe Aw in 2016 and it is undeniable that his stock has only continued to rise with the win over Persija as proof.
"To be honest the preparation against Persija was normal. From the first game against nobody gave us a chance especially since we lost key players like Hasan Sunny and Stipe Plazibat, and with the restrictions imposed by the SPL (Singapore Premier League)."
"But in the group stages our confidence grew. We beat Shan United and nearly got the three points against Ceres–Negros till (Sirina) Camara's red card. We manage to build the momentum and carried it to our game against Persija."
"Our win in Jakarta was down to my belief in instilling team spirit in the boys. We knew that in Indonesia the 12th man would be a huge boost for our opponents. While in the trainings I guided and explained to them the tactics, at the end of the day, it was all down to the boys and their hard work and hunger got us the win," said the 40-year-old.
Central to the former Singapore international's success has been his coaching philosophy that he never compromises. Attractive football and blooding young players are his main objective when his team steps out onto the pitch and Aidil is fully confident that it is this coaching principle that has moulded him as a coach.
"When I was a player I played against top teams. That generation had numerous top talents. We won trophies and it was from there I developed my methods. Attacking football is what I love. "
"For me defensive football is a huge no. If you don't attack we don't win. Moreover any player can break into the team regardless of age. I am all about giving young talents a chance. As long as they work hard."
"Amiruldin Asraf is an example of how I believe in young talent. Only 18 but he has the drive and creativity thus, he is given a start. There must be a blend of young and experienced. Grooming characters is also a part of job" mentioned Aidil.
"For example Izzdin Shafiq at the start shirked the responsibility of wanting to be captain but I stressed that he must take responsibility. Especially after the departure of Hasan Sunny and now Izzdin has become more mature and leads by example. And who knows in the future he could lead the national team."
Coach Aidil's work has not gone unnoticed and it was no surprise that his success earned him a spot on FAS' (Football Association of Singapore), shortlist of coaches who could potentially become the next Singapore national team coach. He flashes a wide grin before answering humbly.
"To be honest that came as a surprise because I still want to focus on club level football. But I believe Fandi Ahmad deserves the position. He is experienced and has good footballing principles," explained Aidil.
"However the role of national team coach is difficult. We all saw what happened with Sundramoorthy. Additionally I feel that our players have to step up too and there must be a shift in mindset from them, to want to do well, which is more important than the coach."
From Singapore football to European football, and when asked on the European coach that he admires the most it was no surprise for second guessing who he mentioned, especially with his style identical to his idol.
"I would say Pep Guardiola is someone I admire in particular due to our matching philosophies. I think with the records and form currently, mixed with his success, he is the best. He is young filled and with ideas, sharing them with the media and TV analysts so he is definitely someone I look up to."
Subsequently while he feels at home with Home United the future for Aidil, he believes is overseas as only by leaving one's comfort zone will one improve further.
"I think it's important to leave your comfort zone because you need to challenge yourself and learn where you stand. To ply your trade overseas could mean learning from better professionals."
"For example if you go to Indonesia. You will pick up something from the Indonesian players and learn from their management. And of course the fans around Southeast Asia they are always an added boost and are an inspiration for any coach, like how we saw in Jakarta."
"But above all, I believe FAS should dole out wider schemes for local coaches to go overseas and learn from the top leagues around the world. When local coaches succeed, greater trust will be placed in us."