AFC U16 Championship
AFC U16 Roundup: Australia edge past Iraq, South Korea thrash Afghanistan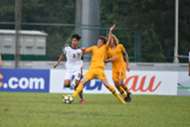 There were only two games on the sixth day of the 2018 AFC U16 Championship. First up, Australia managed to beat title-holders Iraq 2-1 and then in the late kick-off, South Korea annihilated Afghanistan 7-0 to knock the Khorasani Cubs out of the competition.

Group D

Ali Jasim tested Adam Pavlesic a couple of times early on but the Australian 'keeper showed good character. It was a game of chances and misses galore as both sides failed to grasp their opportunities in the final third.

Iraq were dealt a blow in the 44th minute following Ali Kadhim Johni's dismissal for a clumsy tackle on Tristan Hammond as the defending champions went down to ten men.

It took more than an hour to break the deadlock when Melbourne City's Luke Duzel (67') scored a beautiful half-volley following Hammond's lob.

The midfielder then turned provider for Noah Botic (74') who made amends following an earlier miss in front of goal.

Iraq were handed a lifeline in the 79th minute when Jasim was brought down by Jaiden Kucharski in the box. Abdulrazzaq Qasim Subaihawi (81' [Pen.]) made no mistake from the spot but that proved to be too little too late.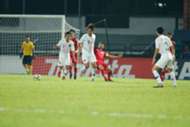 It was surprisingly Afghanistan who had first sight on goal in the 19th minute through Ali Zahidi but his shot lacked venom and it was easily collected by Korea Republic custodian Shin Song-hoon.
Ahn Gi-hun (22' and 35') pounced on the sleepy Afghan defence to make it 2-0, opening the floodgates for the night.
Esmatullah Kazimi (45' O.G.) guided in Hong Yun-sang's strike to add in another before the break. Paik Sang-hoon (46') headed the ball home seconds after the restart to make it 4-0.
Jeong Sang-bin (59' and 63') worked his way to a brace around the hour mark before Hong Yun-sang (67') added salt to Afghan wounds, eliminating them out of the race to make it to the quarter-finals.
That culminated the second round of games across all four groups. South Korea lead Group D with six points, with two wins in two, Australia and Iraq have three points each while Afghanistan are yet to open their account.