African All Stars
Achraf Hakimi vs. Serge Aurier: A fascinating contrast between present and future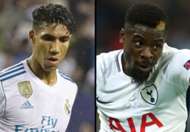 ---
COMMENT    By Solace Chukwu    

Follow on Twitter
---
The rise of Achraf Hakimi at Real Madrid so perfectly illustrates just how crucial the inherent randomness of human life is as a defining factor. However, while the story of his emergence into the light will forever be told against the backdrop of Dani Carvajal's misfortune, it is his willingness to look forward, both literally and figuratively, that has set him on the road to greatness.
As Real Madrid and Tottenham vie for primacy in Group H of the Champions League, we may be treated to an interesting side course, a subplot involving two African right-backs which could well develop into an object lesson for the 18-year-old Moroccan.
In a Madrid side built on great stability and considerable experience, Achraf basically has 12 teachers at any one time in any given game telling him what to do, guiding him along on his training wheels. What is probably more pertinent at this point, and what he is unlikely to get with Zinedine Zidane's calm, cool mien and approach, is a template for what not to do.
For that, he would do well to look right across the pitch on Tuesday, perhaps even to the dugout, at the stockier frame of Serge Aurier. With two Champions League engagements and a World Cup qualifying 'play-off' between Achraf's Morocco and Aurier's Ivory Coast to come, there will be plenty of opportunity for instruction.
The Ivorian himself was considered a prodigy when breaking through at Lens and Toulouse, his blend of speed and dynamism making him a great fit both at wing-back and even on the right of a back three, his 5ft 9in frame notwithstanding.
At PSG he showed he could play at the top level, improving one of the world's richest teams. However, he did less to convince he could live constantly under that spotlight, time and again getting into all sorts of hijinks—his combustibility proves hard for even he to contain.
It is easy to theorize that developing without the type of forceful playing role models that Achraf has at Real, for example, may have led to this: a lack of a steadying influence has made Aurier fascinatingly free-range, a structurelessness that is both devastating and calamitous, depending on context.
His move to Tottenham for just under £25 million has been viewed as a bargain, but the caveat attached to it is one which has proven justified so far. He has not exactly taken like a duck to water at Wembley, and was sent off on his only (to date) Premier League start this season, away at West Ham United.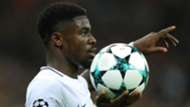 He has, however, been an ever-present in the Champions League, and perhaps it is simply that Mauricio Pochettino is taking his time to ease him in.
This is, of course, still quite telling: Aurier is 24, a full international with over 40 international caps and World Cup appearances, and yet seems to warrant kid gloves; the contrast with Achraf, six years his junior, at the biggest club in the world and straight into the fray in La Liga, is not favorable to the older man.
It is not even simply a matter of exigency or personal choice on the part of the respective managers: it is that the younger has looked unerring mature and assured in his performances, more conscientious regarding his defensive duties while maintaining offensive presence, more understanding of the framework he has been called to inhabit.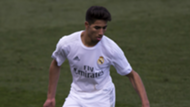 While this is viewed as something of a last chance for Aurier at a major club, Achraf seems to have the world at his feet.
Already, he has joined the international set-up with Morocco, who are on the cusp of a first World Cup appearance since a somewhat cruel elimination in the 1998 finals in France. The mood of hope and expectation is boosted by the unearthing of a proper talent in the Real teenager, and it would be fitting that they - and by extension Achraf - break into bloom precisely by upstaging Ivory Coast and Aurier, the last great 'Golden Generation' on the continent.
It would also be a symbolic torch-passing moment, and in keeping with the new wisdom: it is best to learn from the mistakes of others, rather than one's own.
For all his talent, Aurier presents to his younger counterpart a cautionary tale.