United States
Five steps Arena needs to take as USA coach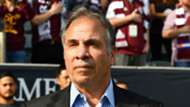 Bruce Arena has gone through the pomp and circumstance of being reintroduced as U.S. national team coach now, and even had the chance to enjoy the Thanksgiving holiday with his family in California. Now he can begin the job he never wanted to give up in the first place, a job that will be much tougher this time around.
Arena confident better equipped to coach the USA now 
Arena's overall project isn't so much about cleaning up Jurgen Klinsmann's mess as it is about solving issues Klinsmann never quite seemed capable of figuring out — issues such as which positions best suited his best players, and which fringe prospects could step up to provide much-needed depth. Klinsmann had his strengths, such as identifying young talents capable of making the jump and instilling in them the confidence to succeed, but where he failed was in establishing consistency in the group.
Arena has been hired to not only help the U.S. find the kind of consistency and sustained confidence that had eluded it in recent years, but also to identify new talent that may have gotten overlooked or ignored by Klinsmann. To be clear, all coaches have their player preferences, and it will be very interesting to see which players ignored by Klinsmann will take advantage of the coaching change to thrive under Arena.
So what are the biggest tasks Arena needs to work on in order to help the U.S. turn things around? Here are five key issues for him to tackle as he embarks on his second tour in charge:
---
SETTLE ON BEST POSITIONS FOR TOP PLAYERS
---
This one sounds like a no-brainer, doesn't it? It does, but the reality is the versatility of some of the U.S. team's top players often left Klinsmann with too many toys to play with. As much as it is useful to have Fabian Johnson and Geoff Cameron be able to play multiple positions well, it also hurts the team's continuity to have its best players bouncing around in different roles.
Arena must figure out where best to deploy Johnson, Cameron and Michael Bradley, and build the squad around them. Once he settles on where to play them, he can begin the search for depth and viable options at those positions where Johnson and Cameron have previously been used or considered.
Klinsmann may have already been shifting toward moves for this trio, what with Johnson playing in a more attacking role in the November qualifiers, and the coach acknowledging he was going to consider Cameron for a central midfield role if he hadn't been injured. Bradley also played in a more defensive-minded role in the loss to Costa Rica, a spot Klinsmann had previously not agreed was the best for his captain.
Of the three, where to play Cameron may be the trickiest to figure out. He is the most reliable center back option but has shown at Stoke City that he can be a strong defensive midfielder. A Cameron-Bradley pairing in central midfield could give the U.S. a strong middle, but Arena could ultimately determine it is more beneficial to the U.S. to have Cameron reunite with John Brooks in central defense, where they played so well as a tandem at the Copa America.
---
REBUILD THE LEFT BACK POSITION
---
Klinsmann's memorable phrase "anybody can play let back" set the tone for his handling of the position throughout his tenure. It really became a patchwork position, first salvaged by DaMarcus Beasley's impressive transition to the role and then filled in by Fabian Johnson.
Whether or not Arena decides to play Johnson as a winger, some fresh left back options are absolutely necessary and the new coach must work to find and integrate them. He has to consider the likes of Jorge Villafana, Eric Lichaj, Justin Morrow and even Robbie Rogers, who he turned into a very effective fullback with the LA Galaxy.
The left back position has never been one stacked with options for the U.S., but under Klinsmann it always felt like the spot was an afterthought. It will be up to Arena to show it can be a position with viable solutions.
---
BRING BACK THE KLINSMANN CASTOFFS
---
Benny Feilhaber's response to Klinsmann's departure was just as snarky as you would expect, but the smiley face emoji he posted to Twitter was very likely the same reaction shared by several players who had become "former U.S. players" under Klinsmann despite still being good enough to be considered.
 

— Benny Feilhaber (@b_feilhaber22) November 21, 2016
Feilhaber is the poster child for this segment of the U.S. player pool, but he's far from alone. Players such as Jonathan Bornstein, Lichaj and Matt Hedges are just some of the ones Arena should and likely will call up as soon as he can.
The January camp will be of particular interest, with players such as Feilhaber, Hedges and Dax McCarty very good possibilities to earn looks from Arena. Whether they will actually succeed in climbing the ladder up to the full squad for March's qualifiers remains to be seen, but they will at the very least be given chances that were much tougher to come by under Klinsmann.
Arena's reclamation project should also include players like Darlington Nagbe, DeAndre Yedlin and Danny Williams, who have earned regular calls from Klinsmann before but who may have fallen out of favor recently.
---
BUILD A RAPPORT WITH THE DUAL NATIONALS
---
Arena spent plenty of time last week distancing himself, and apologizing for, past comments about dual nationals playing for the U.S. While he said all the right things, he knows he still has work to do to mend some fences and make it clear where he stands.
Sounders' improbable climb continues
Arena's main point in those past comments were more about feeling the over-reliance on dual nationals showed a real issue with player development in the U.S. itself, but the fact remains his comments were seen as a major slight at foreign-born players on the squad. It will be up to Arena to let his dual national options know they will be treated fairly.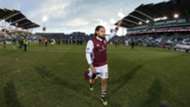 Will Arena's return mean we will stop seeing dual nationals integrated into the player pool? Don't bet on it. He will certainly continue to call in the likes of Fabian Johnson and John Brooks, but don't be surprised if some others, like Timmy Chandler and Julian Green, are passed on, at least initially.
Jermaine Jones will be a particularly interesting one for Arena to consider. At 35, Jones is among the oldest options in the pool, but as he showed in Colorado's playoff loss to Seattle on Sunday, he remains a high-level player. Will Arena keep Jones in the mix, or will he move on from the German-American midfielder?
---
FIND SOME MLS GEMS
---
Having spent the past eight years coaching in MLS, and winning three MLS Cup titles in the process, Arena knows the league inside and out and will be expected to tap into that knowledge to unearth some gems to boost the player pool.
Klinsmann hasn't been shy about taking a look at a wide range of players, and has given MLS players plenty of looks through the years, but Arena will be expected to call on even more options who may not have earned calls in the past. We're not just talking the likes of Feilhaber and Hedges, but also uncapped players such as Sebastian Lletget, Keegan Rosenberry and Walker Zimmerman, and older possibilities such as McCarty and Morrow.