Young Africans
Yanga misery continue as they lose to Mwadui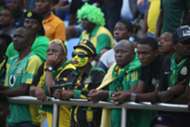 Yanga's misery continued as they reached nine games without a win in all competitions following their 1-0 defeat against Mwadui at  the Kambarage Stadium, Shinyanga in the Premier League.
This is fourth league defeat in a row for the former champions who have struggled for form since the departure of the former head coach George Lwandamina early on April.
With Caretaker coaches Shadrack Nsajigwa and Noel Mwandila on the bench, Yanga went behind in the 19th minute through Awesu Ali who capitalized on defensive misunderstanding between Vicente Andrew and Juma Said.
However, the game was far from convincing with both set of players playing caefully in the majority time of the game.
Yanga went close to an equalizer in the last kick of the game after Amis Tambwe's header was cleared off the line by defender Abdallah Mfuko.
In another league, Singida United killed all hopes of Maji Maji avoiding the drop after beating them 3-2.
The defeat for Maji Maji means they will play now  in the First Division League next season together with Ndanda and Njombe Mji who all couldnt beat the drop.