World Cup
With Diego Costa in beast mode, Atletico can end Real Madrid's Champions League dominance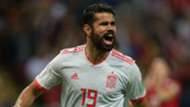 The 2019 Champions League final will be played at the Wanda Metropolitano, ensuring club football's biggest spectacle will be Madrid-centric once more.
After Real Madrid's three years of European dominance, the competition's final comes to the city, but will take place at the new home of local rivals Atletico Madrid. There is only one thing Atleti fans would love more than seeing Real's run ended and that is victory for their own club on their home turf.
Having lifted the 2017-18 Europa League and reached the final of the Champions League twice in the last five seasons, Atletico are perfectly poised to make a run all the way to the winner-takes-all game on June 1, 2019.
Following their 3-0 demolition of Marseille in the Europa League final, Diego Simeone's side were expected to lose star player Antoine Griezmann to Barcelona, with a long transfer saga eventually ending with an anti-climatic video about the France forward's decision to stay with Los Colchoneros.
Atleti have already been busy preparing for next season, tying down Griezmann and defender Lucas Hernandez, as well as agreeing a deal to sign winger Thomas Lemar from Monaco for a reported €60 million (£52.9m/$70.5m).
On top of that, Diego Costa is in the form of his life, scoring three times in his first two games with Spain at the World Cup. Before heading to Russia, Costa had a mixed return in Madrid, scoring just seven times in 23 games following his January transfer from Chelsea.
For Spain, he has found his best form, with four international goals so far this year his best calendar-year return for his country. Having bagged the winner against Iran in La Roja's second group game, Costa sits just one goal behind Cristiano Ronaldo and Romelu Lukaku in the race for the tournament's Golden Boot with a game against Morocco to come.
Only Ronaldo's magic was able to stop Spain from winning their opening match, with Costa taken off before the late equaliser. Spain head coach Fernando Hierro is unlikely to make the same mistake of taking off Costa in future games when the result is less than secure.
Costa has long been known for his aggressive style of play, which can often wind up opposition defenders. This has been evident in Spain's games so far, but his clinical nature in front of goal has stood out even more showing an awareness in the box which allows him to get the better of those same defenders he has been annoying all game.
In the win over Iran, Costa was accused of stamping on goalkeeper Alireza Beiranvand, but the 29-year-old denies that he has been up to his usual shenanigans at the World Cup.
"I was very calm, there are so many cameras that you can't play the fool," he told reporters. "I was sure that I hadn't done anything wrong."
Although the cameras are watching Costa and VAR can retroactively punish him for misbehaving, he still knows how to provoke defenders. Instead of small fouls or leaving the boot in, he tries to get into the minds of opponents through constant verbal abuse - out of earshot of the referee.
"Diego Costa cussed everyone in my life during the entire game," Morteza Pouraliganji told reporters.
"The things he said to me from the start till he went off were disgusting. He constantly insulted my entire family. He would just turn around and look me in the eye and insult my sister and mother.
"He thought I was inexperienced and I would get myself sent off, but I tried to be in control and focus on the game. Everything I heard about him was right.
"He would just swear to anyone and everyone whenever he wanted, as soon as the referee would come near us he'd go silent."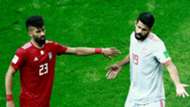 Costa has been working hard to annoy defenders, but he has also been working hard for his Spain team-mates. At the 2014 World Cup, he averaged six kilometres a game, but has already raised that to a distance covered of 8km at this summer's tournament.
Morocco coach Herve Renard knows that his players should expect verbal battles with the striker, but is more concerned with preventing Costa from putting in a good on-field performance, leaving the match officials deal with any of his mindgames.
"Of course we have to be careful about this player," Renard told reporters. "He's a very good player. He's a very good striker. The first thing we have to do is control him on the pitch. We are putting our confidence in the referees tomorrow."
He is a more well-rounded player than when he featured for Atletico Madrid in the Champions League final in 2014. Then, he was rushed back from injury and lasted just eight minutes in the final as Atletico lost 4-1 to rivals Real.
With proven winner Simeone in charge, key players secured for next season, top talents arriving and Costa in full beast mode, Atletico Madrid are perfectly poised to become the team to end Real Madrid's Champions League dominance. And where better to do it than in their home stadium?