Win N3Million in Premier Cool's Turf Wars 5-Aside Football Competition
Do you love football? Are you fit? Have you got what it takes? Then this is definitely for you. Premier Cool a brand PZ Cussons, is set to give away N3million and loads more as it presents the 'coolest' football competition tagged the 'Premier Cool Turf Wars', which will hold in Lagos.
The 'Premier Cool Turf Wars' is a 5-Aside football competition designed to take the leisure football to a whole new level. It is for those cool people who truly love the game of football, who in spite of their busy schedules still make out time to play. Premier Cool wants to reward that passion!
The winner of the Premier Cool Turf Wars walks away with the grand prize of N3million; the 1st runner-up – N1.5 million and the 2nd runner-up – N750k. What's more, you get to play in the coolest atmosphere you could possibly imagine.
Registration for the competition is absolutely free and is open to all football lovers between the ages of 18 – 35 years, till the 26th of July 2018!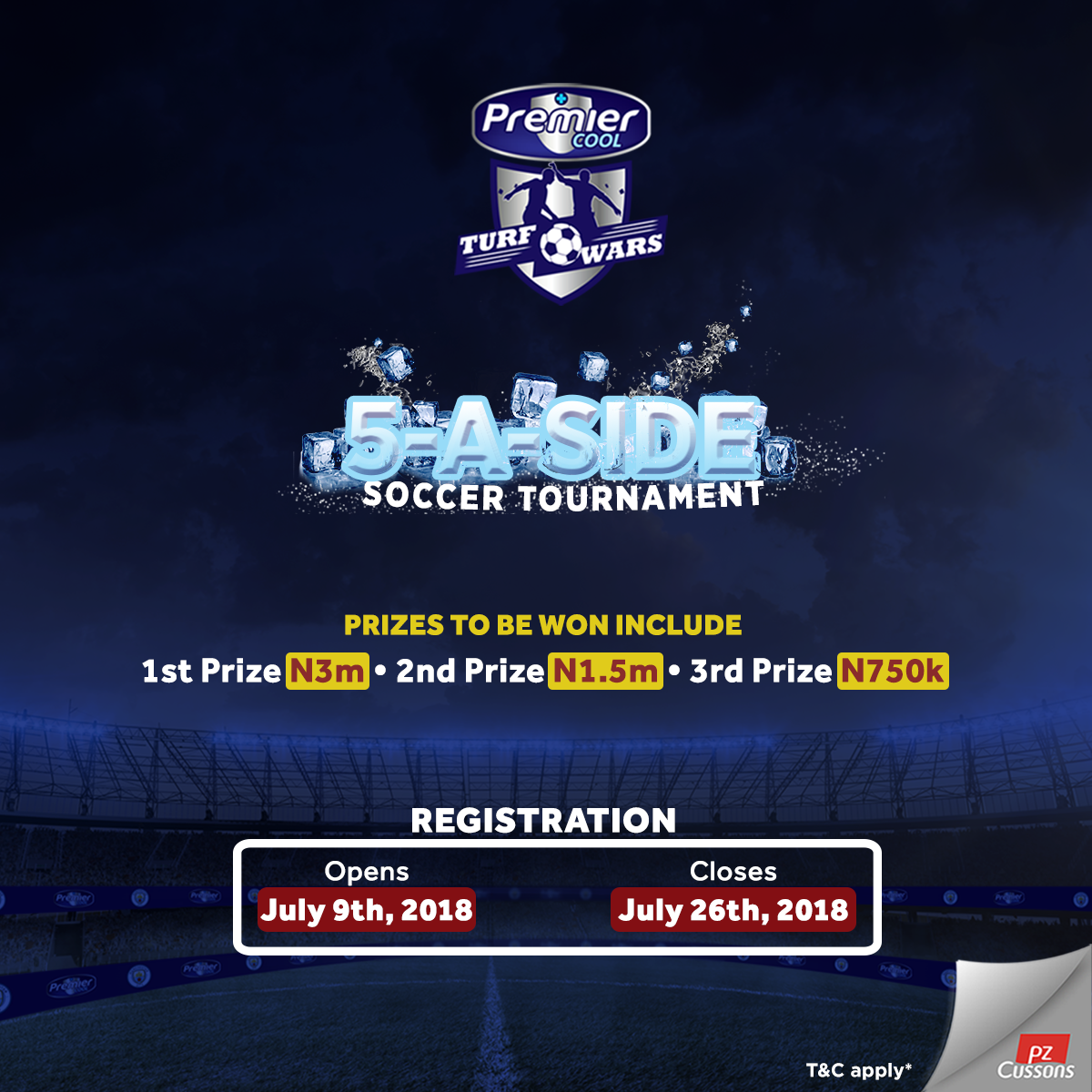 Here's how you enter:
Form a football team, choose a captain and ensure your captain has all the team members' details. Your team will need a minimum of 6 Players 1 Goalkeeper, and 1 Official and a maximum 8 Players, 2 Goalkeepers and 2 Officials.
Get your team captain to register the team by providing all relevant information on www.Premiercool.com.ng/Turfwars    
Read and accept all terms and conditions.
Hit the 'Submit' button to complete your registration.
You'll be notified via the email your team captain provides during the registration, so ensure the email is a valid one. Ensure that all forms are accurately completed as any incomplete registration will be invalid.
Only 16 teams out of the registered teams will make it into the competition, as shortlisting will also include an online voting process. The competition will involve a knockout stage as well as the finals where the eventual winners will emerge.
Hurry now, register your team to play and play to win!
For more info, follow @premiercoolNG and also join the fun conversation on social media using the hashtag #premiercoolturfwars