Orlando Pirates
Willem Jackson: Orlando Pirates were unlucky to draw against Cape Town City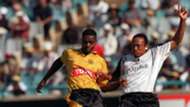 Former Orlando Pirates defender Willem Jackson believes the Soweto giants were unlucky to drop two points against Cape Town City on Wednesday night at Orlando Stadium.
Although the Buccaneers had a comfortable two goal lead in the opening half, they allowed the Citizens to bounce back as they netted twice through Ayanda Patosi as both sides walked away with a point apiece.
"I think in my point of view, Pirates took it too light in the second half and I believe they could have wrapped it up in the opening half by scoring more goals," Jackson told Goal.
"They allowed them (City) to come back in the game and you could see City were different from the second half as they pressed Pirates – I think the coach told them to put pressure on Pirates especially in their half," noted the former Bafana Bafana defender.
"Pirates failed to deal with the pressure and they eventually conceded. The first goal gave City some confidence and it became a problem for Pirates," responded the 46-year-old.
"For me, Pirates played well and there's no doubt about their brand of football, they create chances, but they failed to score more goals where City looked a bit lost in the first half," said Jackson.
"All in all, it was a great game of football. Yes Pirates wanted a win. They drew and it's not like they lost, but they must rectify the errors for their next game," he urged.
"They were just unlucky at home, but it's not bad to take a point and City really worked hard for the draw – they also deserve credit," reacted the former Platinum Stars assistant coach.
Speaking about the manner in which coach Milutin Sredojevic's men conceded the second goal, the man who represented Bafana at the 1998 Fifa World Cup said match situations are different from training.
"You know its difficult to do some of the things you have practiced in your training and sometimes it works at training and in a game it doesn't," he said.
"I think Pirates were unfortunate as they failed to deal with that set piece because it didn't look too difficult to deal with and it's also unfair to blame the keeper (Siyabonga Mpontshane) alone," continued the former Siwelele player.
"Pirates have experienced players, the skipper (Happy Jele) was there and there are leaders in that box, it left me a bit concerned to see there was no communication in that set piece. The keeper can also slip up at times and one can also credit the man who took the set piece, but they must improve on that," he said.
"I know Pirates wanted a win, but City also wanted it or at least a draw – it was a beautiful set piece and this becomes a lesson for Pirates that you must take your chances and bury the match as early as possible," Jackson continued.
"We saw on Tuesday when Liverpool nearly lost the match to PSG. It happens everywhere and I think the supporters will also understand these things," he reflected.
Ahead of their clash against Baroka on Saturday, the retired defender reckons his former team will be able to get a win as they are creating chances and playing well, but has urged them to score more goals.
"Yeah I think they can go out and win it. They are not a bad team, but they just need to score more goals and close it in the first half," said the coach.
"They do create chances and the coach must just motivate them to convert so that they are comfortable in the second half because a 2-0 lead is not really giving any guarantees that you have won the game," he concluded.