KPL
Why George Nsimbe was shoved aside by Tusker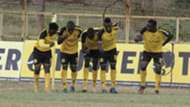 An elaborate interview with a local media house in which he emphasized the need to work with 'younger players' next season was the chief reason George Nsimbe was shoved out at Tusker, Goal understands.
The Ugandan trainer, who is commonly referred to as 'Best' in his homeland owing to comparisons with former England international George Best, has been frozen out of the first team until the end of the season.
This decision was communicated to the players by the club's long serving CEO Charles Obiny after Tuesday's training session.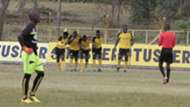 Tusker players celebrate in manner suggesting old age
Nsimbe was already facing pressure from the club's management over perceived below par results this season, with the team having put up a week title defence, besides suffering early elimination from both the domestic Cup (GOtv Shield) and Caf Champions League.
And then came the controversial comments which according to various sources, who spoke to Goal on Tuesday, irritated both the management and a majority of the brewers' senior players.
"Tusker is a big brand and any message going out suggesting the players and management are not reading from the same script are taken very seriously," our source revealed.
"The management investigated the comments and found proof he uttered the words. They were left with no choice other than to ask the coach to step aside."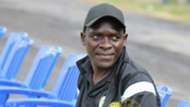 George 'Best Nsimbe has been shoved aside by Tusker
To showcase the divisions further angered Tusker players resolved to celebrate the goals scored against Muhoroni Youth last weekend in the same way former Cameroon international Samuel Eto'o did when coach Jose Mourinho suggested he was older than his actual age.
That particular celebration showed the players walking in aid of an imaginary walking stick as if they are old men.
Nsimbe, who has managed Tanzania's Azam and Vipers FC in his motherland in the past, is expected to remain on full salary for the duration of his suspension even though he will not interact with the first team.
His assistant Francis Barasa and technical director Leonard Odipo handled the team on Tuesday ahead of their league match against Nakumatt on Wednesday.