Premier League
Why Chelsea's title success will give power-hungry Conte more transfer control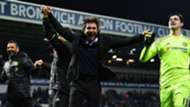 ---
SPECIAL REPORT
---
Antonio Conte will enjoy his title party on Sunday but his eyes are already looking beyond to the FA Cup final and another transfer window.
Chelsea team news vs Sunderland
He will also be embroiled in contract negotiations with Chelsea immediately after the season is finished, which will include discussions around transfers.
Power is everything in the world of big business, which is the world that Chelsea operate in. There are no good guys and bad guys but there are winners and losers. Conte is a winner and he will use his Premier League title win to strengthen his hand at the negotiating table.
There are rumours the Italian is being offered more that £12 million per year by Inter ahead of negotiations and the setting of next year's budgets.
Owner Roman Abramovich, who's interests at Chelsea are represented by club director Marina Granovskaia, will always have the final say but the manager will be keen to make his voice louder after missing out on his main transfer targets this season.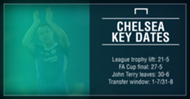 Conte brought success, despite the club failing to sign Roma's Radja Nainggolan, Real Madrid's Alvaro Morata and Napoli's Kalidou Koulibaly last summer. He also wanted Swansea's Fernando Llorente in January but Chelsea couldn't convince Paul Clement into a sale or swap deal for Michy Batshuayi.  
Chelsea did get N'Golo Kante and David Luiz, who have been two of the Premier League's best players this season, but with Inter interested in him, the manager will ask for even more this time around.  
Juventus, remember, lost Conte after a falling out over transfer spending as the club's CEO, Beppe Moratta, failed to secure the likes of Morata and Juan Cuadrado.
Alexis knows his time at Arsenal is up
This was as he struggled to make the Turin side competitive in the Champions League, despite domestic domination. He made his rift over funding clear ahead of leaving the club by saying: "When you have 10 euros in your pocket, you can't eat in a restaurant where the meal will cost you 100."
He also wants a pay-rise - only Mauricio Pochettino earns less as a manager of a top-six side. His eye-opening comments at last week's press conference show that it isn't just about the money, but the power and prestige that bigger salaries bring. 
"Money is important only at this level to give the real value of a player or the coach," said Conte. "If you show you deserve it, you have earned the money. I think this.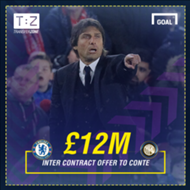 "When you stay at this level, the money only explains to you your value. It tells you your value. Money is not the most important thing, but money is important to understand the real value of a person."
Conte and the board are expected to maintain their good relationship. He has already put a plan in place for his family to move to London next season - and Abramovich is likely to listen to him.
Chelsea are in their best financial shape ever, with their new commercial deals with the likes of Nike, Carabao and Yokohama Tyres.
Lacazette confirms he'll leave Lyon
The manager, meanwhile, will bring in more than £50 million in prize money in his opening season - £38m from the Premier League, £10.8m from Champions League qualification and, possibly, an FA Cup win worth £1.8m.
He has far exceeded Chelsea's target of a Champions League qualification in his first year. However, English teams have struggled in Europe in recent seasons, just as Juventus did before. Conte will want to not only stay ahead of Manchester City and Manchester United but to also close the gap on the Champions League big guns.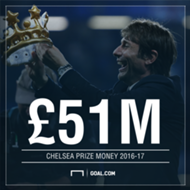 Chelsea are estimated to have had a net spend of around £20m in transfer fees in the last year, with over £50m brought in for the sale of Oscar to Shanghai SIPG, while they offloaded some players on very high wages, including John Obi Mikel, Cuadrado and Branislav Ivanovic. 
However, Conte is confident of his talent and he will believe he can one day surpass Mourinho's Chelsea trophy haul. Mourinho defiantly claimed that "Judas is still number one" as he was booed at Stamford Bridge, with United dropping out of the FA Cup. 
This might be true, but Conte is ready to lead a refreshed group of new Chelsea legends as we near the post-celebration negotiations.