UEFA Champions League
Why €80m James Rodriguez failed to become Real Madrid's next great Galactico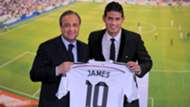 Real Madrid were in the market for a star signing. After winning the Champions League in 2013-14, Florentino Perez was keen to strengthen again and make Los Blancos the best around. So he paid €80 million for James Rodriguez.
Despite claims to the contrary, Madrid had wanted to bring in Luis Suarez. But the Uruguay striker moved to Barcelona instead and Real then turned to James, one of the revelations at the 2014 World Cup.
With the market now inflated by Neymar's €222m transfer from Barca to Paris Saint-Germain, €80m may not seem such a significant outlay. But it was a lot of money in 2014 and, unfortunately, James never really lived up to the price tag.
Initially he impressed, his debut campaign easily the pick of his three seasons at the Santiago Bernabeu. However, Madrid ended 2014-15 without a trophy in May and coach Carlo Ancelotti was sacked. And to make matters worse for Real, Barca won the treble.
Rafa Benitez was brought in as Ancelotti's replacement and the Spanish coach received plenty of criticism from the media and also fans for leaving James on the bench as Casemiro became a fixture in midfield for Los Blancos.
And when he did bow to the wishes of his president, picking James and Danilo in his starting line-up in a Clasico clash at home to Barca, Real were thrashed 4-0 and Benitez (despite the dreaded vote of confidence from Perez) would soon be gone.
Zinedine Zidane was promoted to the first team from youth side Castilla and the club icon was expected to restore James to his starting line-up. Instead, however, he stuck with the BBC (Gareth Bale, Karim Benzema and Cristiano Ronaldo) and Casemiro in midfield.
By the end of the season, James had only started 21 games and he never made it off the bench in the 90 minutes or extra time of the Champions League final against Atletico in Milan.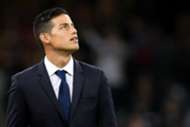 For his part, James always insisted that Zidane had been his idol, but the replies from the French coach about the Colombian's future at the club became less and less convincing as time went by and in the 2017 Champions League final against Juventus, the South American was left out of the matchday squad altogether.
That was the final straw. Despite starting 20 games in total that season and chipping in with some important goals and assists as Madrid won La Liga, James could see he was not in Zidane's plans when it mattered most. In the Champions League, he played only 35 minutes from the quarter-finals onwards in the past two seasons, despite the fact Madrid won the trophy both times.
At one point, it had looked like both he and Isco could leave, but the Spain midfielder stepped up and the emergence of Marco Asensio pushed the Colombian even further down the pecking order.
"I didn't want him to leave," Zidane said on Tuesday ahead of Madrid's Champions League quarter-final first leg against Bayern at the Allianz Arena. "He wanted to play more and I understand that. I have never had problems with James. He needed to play more and that's the only thing."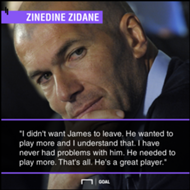 And he added: "It's the hardest thing for a coach. He will be more motivated (ahead of the games against Real) because he is a footballer and he will want to do well. But if anyone thinks I have something against James, they are mistaken. He is a great player."
James moved to Bayern on a two-year loan in the summer, but it took time for him to settle in Germany and coach Jupp Heynckes has helped after a complicated start to the season under Ancelotti.
"He was a little depressed," Heynckes said on Tuesday. "I took care of him, I had lots of talks with him, and step by step he found confidence. He is more relaxed within the team.
"Our fans here, when they see him play football, they enjoy it. Above all he is a player who has fantasy, he has an overview. He is more open-minded and gives the impression he feels well and has settled in Munich. I think that is the most fundamental [thing]."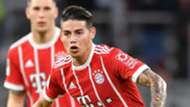 Madrid had hoped to install an expensive release clause in the player's contract, but he will be available in the summer of next year for the accessible price of just €42m, a fairly low amount of money for a player of his quality still in the peak of his career (he will be 28 in July 2018).
And even though he is back on song at Bayern, his former club are still not looking to take him back. In the end, James at Madrid was a story that both were so eager to work out, but there is unlikely to be a happy ending now.
"I'm really happy at Bayern," the player said recently. "I feel great in Munich." And former Colombia goalkeeping great Rene Higuita said this week: "He can play for any team in the world."
Just not, seemingly, for Real Madrid.