KPL
Who is frustrating Ulinzi Stars top striker's ambition?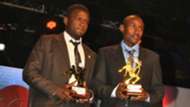 Frustrated Ulinzi Stars striker and Kenyan Premier League Golden Boot candidate, Stephen Waruru has come out to spill the beans that someone is determined to see to it that he doesn't scoop the prestigious KPL Award this year.
Waruru who is yet to score for the Soldiers since late August, has so far 11 league goals, just one shy of top scorer, Kepha Aswani of Nakumatt, a record that places him among the top candidates for the Award.
But it is his continued absence in Ulinzi Stars' lineup that has raised eyebrows and the diminutive striker has now come out openly to reveal that there are concerted efforts within the club determined to frustrate his ambition when he took social media to vent his anger.
"The God, who protected Daniel from the Lions, is the same God that protects me. I may not be playing in these last games because it's someone's joy to see me not achieving my goals this season.
"No matter how you fight me, I'll always come stronger because God is greater than you. And if you think you're shutting my doors, sorry to let you know (that) God has bigger plans.  All the best team Ulinzi," added Waruru who is most likely to sit out of Ulinzi's home game against AFC Leopards.
When reached for comment, Ulinzi Stars Team Manager, Joe Birgen denied knowledge of the message from the leading striker, but assured that all was well at the club.
"I am just hearing from you that Waruru is complaining. I have not seen the message from the player nor read it and there is no one who has raised the same complaint.
"Waruru played for us against Liberty Academy in a friendly match last Wednesday after returning home with Harambee Stars from the tour of Asia. I cannot understand how he has concluded that he will not be playing for the team in remaining matches. The best advice I can give to you is to speak to the player and let him confirm what he has written on social media."
Waruru is tied second in the overall top scorers standing with Sofapaka's Umaru Kasumba both on 11 goals.