A-League
Western Sydney Wanderers - Sydney FC Preview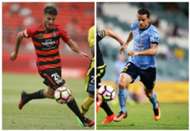 Western Sydney Wanderers fans will demand a response from their stuttering side against the imposing Sydney FC juggernaut in Saturday's A-League derby.
SQUADS
Western Sydney Wanderers squad: 1.Jerrad TYSON (gk), 2.Shannon COLE, 3.Jack CLISBY, 5.Brendan HAMILL, 6.Mitch NICHOLS (c), 7.Steven LUSTICA, 10.Nicolás MARTÍNEZ, 11.Brendon SANTALAB, 12.Scott NEVILLE, 13.Bruno PIÑATARES, 14.Jumpei KUSUKAMI, 15.Kearyn BACCUS, 16.Jaushua SOTIRIO, 18.Robert CORNTHWAITE, 20.Vedran JANJETOVIC (gk), 22.Jonathan ASPROPOTAMITIS, 24.Terry ANTONIS, 29.Ryan GRIFFITHS
**two to be omitted**
Ins: 2.Shannon COLE (promoted), 7.Steven LUSTICA (promoted), 29.Ryan GRIFFITHS (promoted)
Outs: 8.DIMAS (suspended - one match)
Unavailable: Jacob MELLING (back - indefinite)
Sydney FC squad: 1.Andrew REDMAYNE (gk), 4.Alex WILKINSON, 5.Jordy BUIJS, 6.Joshua BRILLANTE, 7.Michael ZULLO, 8.Milos DIMITRIJEVIC, 9.BOBÔ, 10.Milos NINKOVIC, 11.Bernie IBINI, 12.Aaron CALVER, 13.Brandon O'NEILL, 14.Alex BROSQUE (c), 17.David CARNEY, 18.Matt SIMON, 19.George BLACKWOOD, 20.Danny VUKOVIC (gk), 21.Filip HOLOSKO, 23.Rhyan GRANT
**two to be omitted**
Ins: 12.Aaron CALVER (promoted), 13.Brandon O'NEILL (returns from suspension), 19.George BLACKWOOD (promoted)
Outs: 16.George TIMOTHEOU (return to NPL squad)
Unavailable: 22.Seb RYALL (hamstring - indefinite)
BLUFFER'S GUIDE
Australia has fallen love with the Sydney derby's irresistible theatre and the Harbour City once again takes centre-stage this weekend as Red-and-Black meets Sky Blue in the third match-up of the season.
An expected crowd of 50,000-plus will be on hand at ANZ Stadium to see which side of Sydney will be celebrating on Saturday night.
The Sky Blues are looking to extend their unbeaten run against their neighbours to an incredible 10 matches – or some 37 months – and the form lines suggest that should happen.
While Sydney are on the verge of the greatest A-League season in history, the Wanderers have been plagued by inconsistency, frustrating not only their fans but coach Tony Popovic.
Their lacklustre 2-0 loss to Central Coast Mariners last week was the perfect example.
With an opportunity to cement their spot in the top six, Western Sydney produced a lacklustre display at Spotless Stadium.
While the Wanderers have been hit-and-miss all season, the Sky Blues have been sublime.
Solid and dependable at the back, eye-catching and ruthless in attack - Sydney showed in the first half of last week's 3-1 win over Wellington Phoenix how unstoppable they can be when they get it right.
Key midfielder Brandon O'Neill is back from suspension while the Wanderers will be without banned skipper Dimas after he picked up an eighth yellow of the season against the Mariners.
Ex-Sydney goalkeeper Vedran Janjetovic and midfielder Terry Antonis are likely to start against their former club adding further spice to an always combustible fixture. 
ROUTE TO GOAL
Popovic made the peculiar decision last week to drop leading scorer Brendon Santalab to the bench, despite the striker scoring twice the week before.
Western Sydney's boss went with Nichols in a 'false nine' role but it's expected Santalab will return against the Sky Blues, while Ryan Griffiths would be another option although he's barely seen action since signing for the club.
Nico Martinez will again be the go-to man for the home side, with his ability to twist and turn in tight areas and then open up space for team-mates having been one of the best things about watching the Wanderers this term.
Sydney's playmaker Milos Ninkovic has been even better - he's the favourite of many to win the Johnny Warren Medal - with the 32-year-old notching eight goals and nine assists to Martinez's three and four.
The stats show the match could be decided in the final 30 minutes as the Sky Blues have scored almost half of their goals in that period, while Popovic's men have conceded more than half their goals after the hour mark.
WHO'S BEEN IN THE SPOTLIGHT THIS WEEK
Tony Popovic. The heat has been on the Wanderers' boss for much of the season and only intensified after the loss to the Mariners last week.
FORM LINES
Western Sydney Wanderers: DWLWL
Sydney FC: DWWDW
PREDICTION
Western Sydney Wanderers 1-2 Sydney FC