Super League
We're the 'lucky' team that get to face Andik and Amri! - Matthew Davies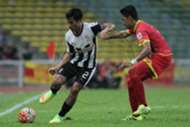 ---
BY        ZULHILMI ZAINAL       Follow on Twitter
---
Pahang skipper Matthew Davies is fully aware of the challenge that Selangor may provide them, ahead of their Super League match at the Selayang Municipal Stadium on Wednesday.
When interviewed by Goal, the defender jokingly grumbled about the timing of the encounter; right after Selangor's former golden boy Amri Yahyah and Indonesia star Andik Vermansah's return to the squad last week.
"We're the 'lucky' team that get to take on Selangor when Andik and Amri are back!
"I'm sure they both have something to prove so they'll be firing, and we too are looking to bounce back straight away after the disappointing cup final (FA Cup final against Kedah)," said Davies.
However, Pahang are still looking to capture the all three points against Selangor, so as to go into the mid-season break positively.
"It's very important, we want to win and finish on a high note.
"It has been a very good half a season for us, so it's important that we finish positively and take this result into the break, and really be proud of what we've achieved in the half-season," Davies explained.
When asked about one aspect of the Red Giants' game that his side should worry about, the right back responded that it is their tactical discipline and fluidity when defending.
"Their strength lies in their ablility to play tactically in the 3-4-3 formation.
"They're very good at what they do and are very difficult to break down, especially when they drop to five in the back with their two flankers coming back to help their back three," pointed out the Malaysia international.
Davies explained that the Elephants' morale is good going into the match, despite their 3-2 FA Cup final defeat to Kedah last Saturday. 
And against Selangor, Pahang are looking to capture the all three points, so as to go into the mid-season break on a high.
"The team morale is okay now. Obviously we've had a day and a half.
"(We were) a bit down and disappointed, but yesterday afternoon once we got back on the training field, we started laughing and joking together again, and now we're refocused on the task at hand," he added.