'We want trophy, not money' - Nasarawa Amazons' Nnodim on Delta Queens clash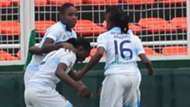 Nasarawa Amazons' Sarah Nnodim says her side main target is to defeat Delta Queens to lift the Nigeria Women Premier League title in Benin on Friday.
Having only win the diadem once in their history, the Amazons will be hoping to topple their rivals, Delta who held them to a 2-2 draw in a Super Four round-robin encounter.
And the defender has vowed her side will put up a very good display to overcome their opponents who would be a hard nut to crack at the Samuel Ogbemudia Stadium.
"We were looking forward to winning all our games but despite the draw against Delta Queens, qualifying for the final is the most important," Nnodim told Goal.
"We are disappointed with the draw because getting to the final was our main target and winning two matches and a draw is not a bad outing for us.
"Everyone should expect total victory from us against Delta Queens in final on Friday. We believe God has given us the victory, our own task is to go to the field and crown it up with her best performance and take the trophy.
"The trophy is what we want, not the money. It has been long the trophy has not come to the northern region, so we want to take it back.
"Delta are a good side and they are a team that never gives up. In the final, the match will be a different ball game and we will plan differently for them because we know every team has their loopholes."